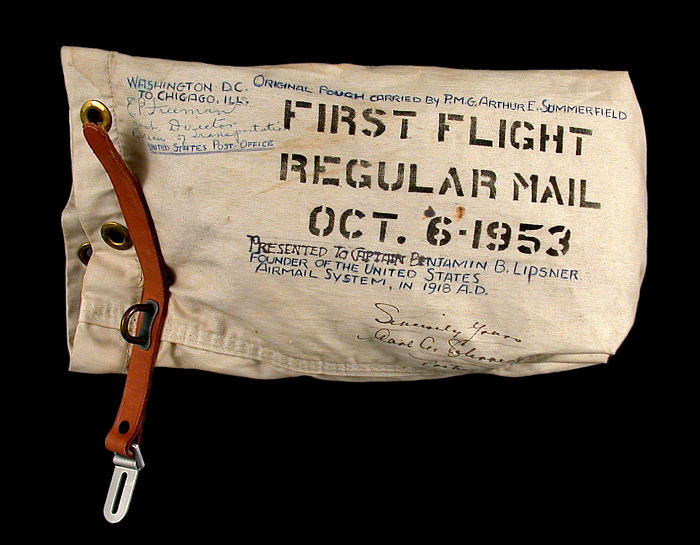 At the heart of mail processing are the fundamental practices of sorting and moving the mail. Although much of the sorting process has been automated, the basic technique remains the same, and one piece of equipment has been found in post offices of all classes for the last two hundred years—the sorting case. At some point in its journey, almost every piece of mail will be hand-sorted into one of a sorting case's many pigeon holes, where letters destined to similar locales are bundled together.
Whether sorted by machine or by hand, bundles of mail are sent on the next leg of their journey with a facing slip, often stamped by the clerk who sorted the mail that lists the final destination of the bundle. These bundles are then loaded into mailbags to be transported to a local post office.
Over the years, the postal service has strived to perfect the humble mailbag. Mailbags must be strong and durable but cannot be heavy or bulky. Registered and first-class mail requires bags that can be locked, and certain modes of transportation, such as railway, have necessitated bags with special hooks and fasteners.
Originally, mailbags were made of leather and canvas, but advancements in synthetic materials have introduced durable nylon mailbags and plastic trays that can be used for moving and sorting the mail.
A note on terminology:
'Mailbag' is the generic term used to describe any bag that carries the mail, but more specific words can be used to illustrate a bag's function. And postal mailbags have had many different functions. Mail sacks are used to carry second-, third-, and fourth-class mail. Mail pouches are made of a heavier-weight material than mail sacks and are designed to lock; pouches are used to transport first-class and registered mail as well as domestic or military airmail. A mail satchel is an over-the-shoulder style bag that letter carriers use while delivering mail along a route. Satchels can be viewed in the Employees section of the museum's website. Catcher pouches were designed exclusively for railway mail and had metal rings at each end to attach to a mail crane and catcher arm to be picked up by moving rail cars. Catcher pouches can be viewed in the Transportation section.
Allison Marsh, National Postal Museum