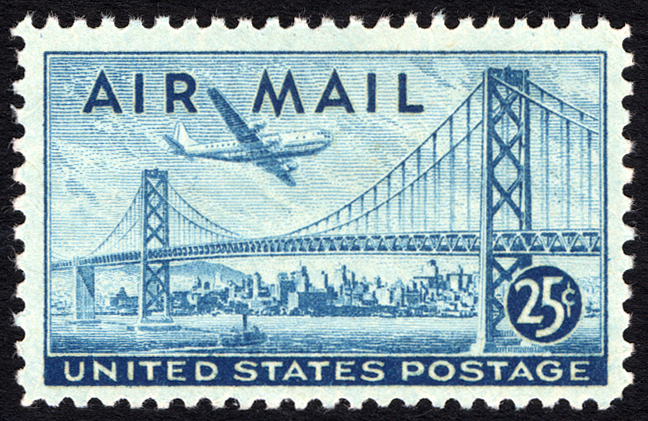 The Post Office Department issued a new 25-cent airmail stamp on July 30, 1947. It is one of three stamps in a series designed to meet new international airmail rates established November 1, 1946.
The stamp, issued in San Francisco, was intended for airmail bound for the Pacific, Asia, and parts of Africa. The stamp features a Boeing B377 Stratocruiser in flight above the San Francisco–Oakland Bay Bridge.
Produced on the rotary press from 200-subject plates, the stamp was initially printed by the "wet" method, but was subsequently also printed by the "dry" method." The printed sheets were divided into panes of fifty for distribution to post offices. William K. Schrage of the Bureau of Engraving and Printing designed the stamp. Edward R. Grove engraved the vignette; Charles A. Smith engraved the lettering and numerals.
Eight plates were used to print "wet" stamps: 23667-23672, and 23681-23682. Two plates, 25615 and 25616, were used to print by the "dry" method.