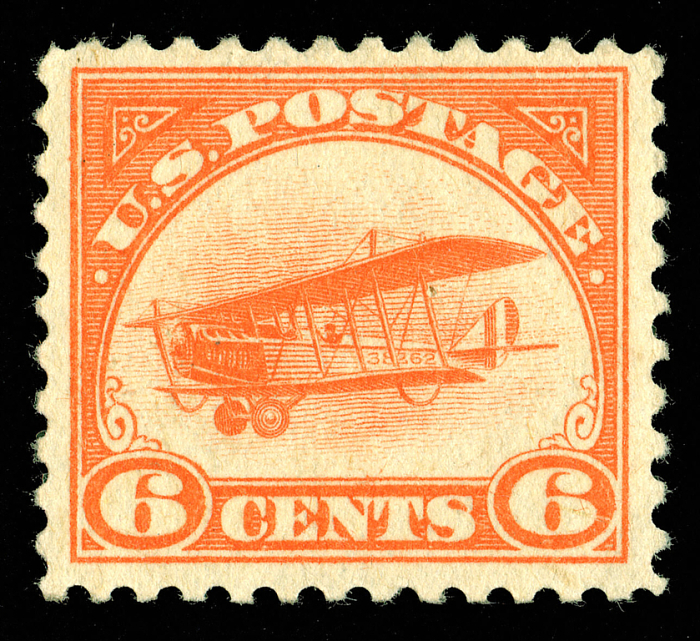 The issue of early U.S. airmail stamps coincided with the pioneer and development period of aviation and of airmail service. The post office depicted balloons, biplanes, zeppelins, monoplanes, and seaplanes on the postage stamps that would frank letters carried by those very same aircraft. As the aviation technology improved, the mail reached destinations farther and faster. The stamp designs showcased the airmail routes that they served from the early 1877 Buffalo balloon mail that relied on the wind for direction to the first U.S. regularly-scheduled airmail route in 1918 between Washington, D.C., Philadelphia, and New York City to the expansion of transcontinental, transatlantic, and transpacific routes. The stamps reflected the rate structures as the post office sought to lower costs and increase airmail usage as well as the shift from government operated services to contracts with private carriers.
Whether your interests are in pilots such as Jack Knight or Charles A. Lindbergh, aircraft such as the Graf Zeppelin or China Clipper, technology, travel and adventure, geography, or even upside-down Jennys, with airmail stamps and flown mail you can share the passion for aviation and its impact on worldwide communications. Specialists in airmail stamps and mail, also known as aerophilatelists, study rates, routes, and markings to document the development of airmail. So prepare for take off and enjoy safe landings!
References:
Fred Boughner, Airmail Antics: Thrilling Stories of the Pioneer U.S. Government Airmail Service (Sidney, Ohio: Amos Press, 1988).

Cheryl Ganz, ed., Collecting Airmail (Mineola, N.Y.: American Air Mail Society, 1996).

Donald B. Holmes, Air Mail: An Illustrated History, 1793-1981 (New York: Clarkson N. Potter, 1981).

Captain Benjamin B. Lipsner, The Airmail Jennies to Jets (New York: Wilcox & Follett, 1951).

The American Air Mail Catalogue 5th & 6th ed. (Mineola, N.Y.: American Air Mail Society, 1974-2005).

Scott Specialized Catalogue of United States Stamps & Covers (Sidney, Ohio: Scott Publishing, 2006).