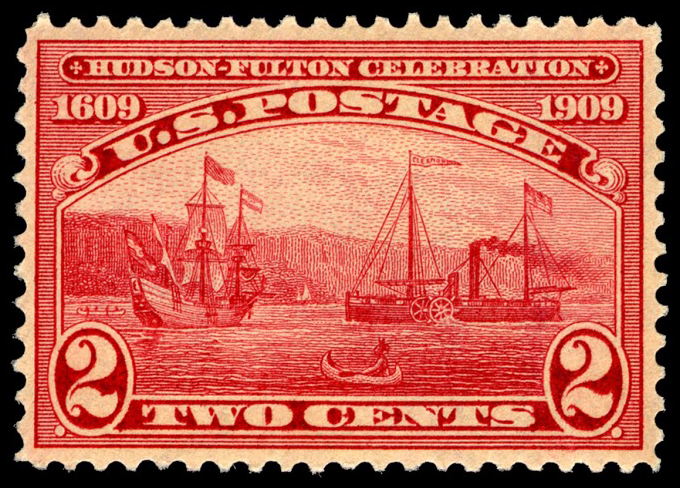 The Hudson-Fulton Celebration was held in New York between September 25 and October 11, 1909. Though not a fair or exposition in the traditional sense, this massive celebration, which stretched the length of the Hudson River from Staten Island to Troy (a distance of over 150 miles), had all the flavor of a fair. It was a combined commemoration of the tercentenary of Henry Hudson's discovery of the Hudson River and the centenary of Robert Fulton's steamship "The Clermont," which plied the waters of the Hudson introducing steam navigation. The stamp was the first commemorative celebrating more than one topic in a single issue.
Hudson's ship, "The Half Moon," and Fulton's steamboat, "The Clermont," (or at least the reproductions of them built for the celebration) are anachronistically depicted side-by-side on the stamp. Like the 1909 "Lincoln" and "Alaska-Yukon-Pacific" issues, the Hudson-Fulton stamp was a single stamp commemorative design issued perforated and imperforate.
All of the imperforate stamps of the period (both definitive and commemorative) were primarily intended to receive private perforations and made into coils by vending and affixing machine manufacturers. In reality, the Hudson-Fulton stamps were not well-suited to this purpose because of their larger size, so most of these stamps that exist with private perforations were produced as a favors to collectors.