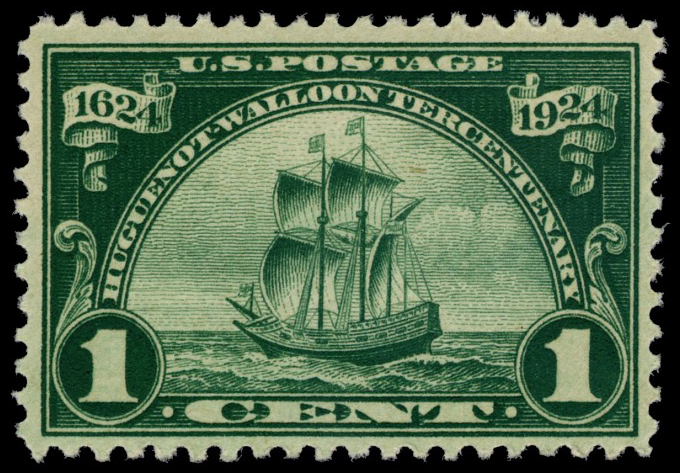 The Post Office Department issued several commemorative stamps in the 1920s and 1930s that recognized the diversity of national origins that comprised the American 'melting pot'. The stamp issue set something of a precedent for honoring immigrant groups.
The three stamps of the Huguenot-Walloon Tercentenary Series, issued on May 1, 1924, commemorated the 300th anniversary of settlement in New Netherlands, now the State of New York. In 1624 a group of approximately thirty Belgian families, most of them French-speaking Walloons from the south of Belgium sailed to the New World aboard the vessel 'Nieu Nederland'. Persecuted for their Protestant beliefs, they sought religious freedom.
The series also honors the Huguenots, sixteenth-century French Protestants who, like the Walloons, suffered persecution for their religious beliefs. Under the leadership of Jean Ribaut (c.1520–1565), a group of Huguenots sailed from Dieppe, France, in February 1562, seeking refuge from religious persecution. They landed at the mouth of Florida's St. John's River in May 1562.