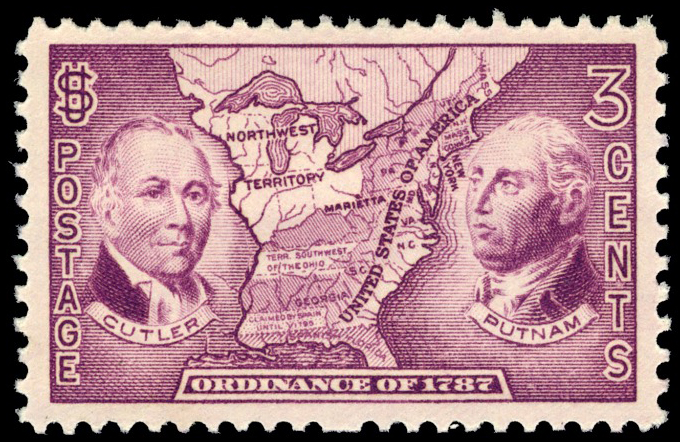 A 3-cent violet stamp was issued on July 13, 1937, to commemorate the 150th anniversary of the Northwest Territory as defined by the Ordinance of 1787. The Territory consisted of lands north of the Ohio River and east of the Mississippi River—that is, lands now comprising the states of Ohio, Michigan, Indiana, Illinois, Wisconsin, and part of Minnesota. The Ordinance established the Territory, banned slavery, and specified that land must be purchased from the Indians and offered for sale by the United States. It also made provision for temporary and permanent governments and eventual statehood of included regions based on population.
The hotly contested Territory passed from Great Britain to the United States in the Treaty of Paris in 1783. Several eastern states laid claim to parts of the Territory, but ceded those claims pursuant to the ordinance of 1787. Many British settlers remained and fomented unrest among the Indians. This unrest continued until the battle of Fallen Timbers in 1794.
The stamp features a map of the Territory, flanked by portraits of Manasseh Cutler, who drafted the ordinance, and Rufus Putnam, superintendent of settlement in the Territory.
Gordon T. Trotter