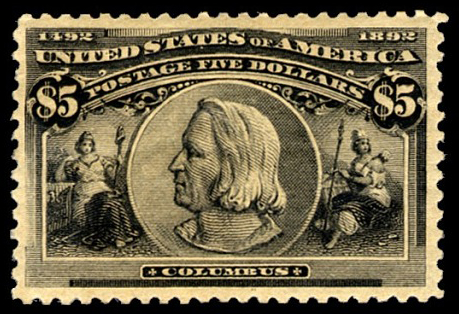 The Classic Period's only commemorative stamps, the sixteen stamps of the Columbian Exposition Issue of 1893 were also the last stamps issued during that era. Forty-seven years would pass before another commemorative set would eclipse the size of the Columbian Issue—the Famous Americans Series.
Late in the 1880s, American cities vied for the opportunity to host a world's fair. Some members of Congress questioned whether a separate congressional committee was needed to select the host city; others wondered if Congress should pay for the fair and hold it in the District of Columbia, an idea squelched by public opinion and the competing cities. The nation bowed by a deep depression, a fair would create jobs in the victorious city.
On February 24, 1890, Congress selected Chicago to host the fair. The following day, the New York Times reported, "If the New-Yorkers who have been striving in a dignified businesslike way to secure the World's Fair could have been in Chicago to-night their natural regret. . .would have disappeared. They would have realized then how much more Chicago desired the fair, and perhaps obtained some idea of how much the town needed it. Interest in the result, such as is rarely seen in Presidential elections, was apparent all day."
Within months of the announcement, the title 'World's Fair' was changed to the 'World's Columbian Exposition', embracing the decade-old idea to commemorate the 400th anniversary of Columbus's first voyage to the Americas. On December 24, 1890, President Benjamin Harrison announced, "In the name of the Government and of the people of the United States, I do hereby invite all the nations of the earth to take part in the commemoration of an event that is pre-eminent in human history, and of lasting interest to mankind."
The World's Columbian Exposition, also known as 'The White City,' opened on Chicago's lakefront on May 1, 1893. Over the next seven months, twenty-seven million visitors attended the fair. The Columbian Exposition commemoratives keep the fair alive for a small population of stamp collectors. The issue price for the set in 1893 was $16.34; in today's dollars the total face tops $300.00. The stamps are some of the most colorful and intriguing of the entire Classic Period of United States philately.
American Bank Note Company printed approximately 2,005,216,300 Columbian Exposition stamps, totaling over $40,000,000 in postage face value.