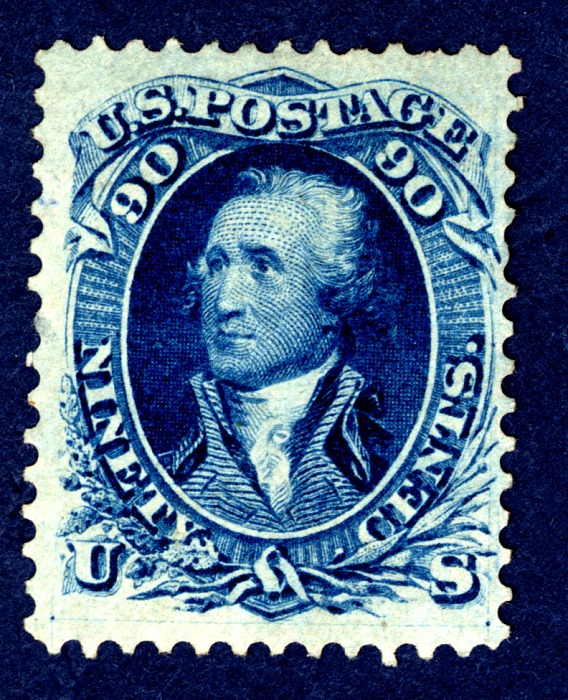 In March 1861 Abraham Lincoln took office as the sixteenth president of the United States. One month later Confederate forces fired on Fort Sumter, thus beginning the American Civil War. No series of stamps issued during the Classic Period has such an important connection to American history as the 1861 National Bank Note Company Issue.
When he assumed his position as Lincoln's postmaster general, Montgomery Blair faced a federal postal system disabled by seceding states and the disloyalty of many of their postmasters. Unable to collect debts owed by individual post offices, the Post Office Department could not ascertain the amount of business they were handling. Blair's solution- cut them off entirely. The Department labeled each postmaster who had sided with the disloyal states as an "embezzler or defaulter."
Blair also decided to issue a totally new series of postage stamps in an attempt "to prevent the fraudulent use of the large quantity of stamps remaining unaccounted for in the hands of postmasters in the disloyal states. . . ." According to the Annual Report of the Postmaster General, as of October 1, 1861, disloyal postmasters controlled postage and stamped envelopes worth $270,000.
For a little over a decade, the Philadelphia printing firm of Toppan, Carpenter, Casilear & Co. had been under contract to print U.S. postage stamps. With the contract ending June 10, 1861, and Civil War escalating, the Post Office Department signed a contract with the National Bank Note Company of New York City. Loyal postmasters in seceded states returned stamps printed by Toppan, Carpenter, Casilear & Co. to the Department. The new National Bank Note stamps were in use across the Union by mid-August 1861. They had the same denominations and honored the same persons as the previous issue, but all of the designs had changed. Despite Blair's report stating, "It was deemed advisable to change the design and the color of those manufactured under the new contract," many of the denomination colors carried over from the 1851-1861 Issue.