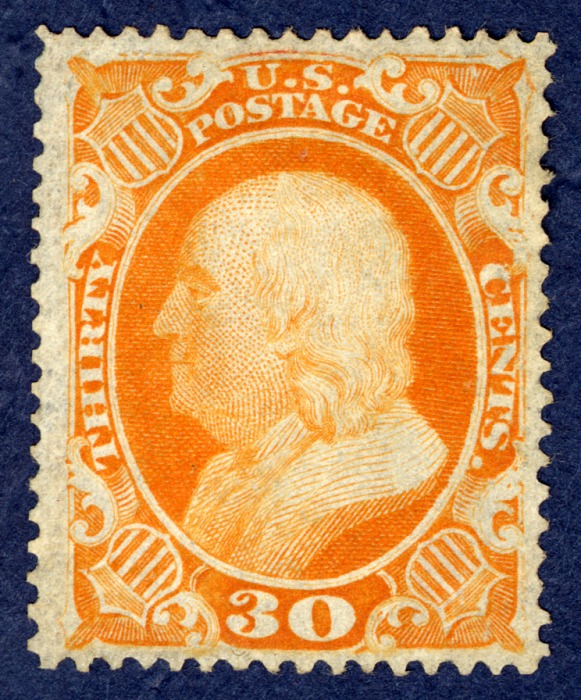 Charles Toppan opened his own engraving business in Philadelphia in 1829. He was thirty-three years old. Other engraving firms-Draper, Underwood, Bald, Spencer & Hufty, for instance-were already well-established in the city. But it would be Charles Toppan & Co., after multiple partnerships and transformations, which would engrave and print some of the most notable stamps in U.S. philately.
John Draper of Draper, Underwood, Bald, Spencer & Hufty left his own firm in 1837 to join Toppan and James Longacre in a new business venture. Longacre left Draper, Toppan & Co. in 1840. Four years later he became chief engraver of the United States Mint, a position he held until his death in 1869. There he designed and engraved both the Indian Head penny and the first 20-dollar Double Eagle.
Samuel Carpenter had joined Draper, Toppan & Co. by 1843 and became a principle partner when the Draper-Toppan partnership dissolved. The company then took the name Toppan, Carpenter & Co. Designer and engraver John W. Casilear joined as a principle partner in 1850, at which point the final iteration of the company name was complete- Toppan, Carpenter, Casilear & Co. In 1851, with these three principle partners and two junior partners, Henry E. Saulnier and William C. Smillie, the company submitted its bid for the new United States postage stamp contract.
Concurrent with the contract competition, Congress passed the Act of March 3, 1851, titled "An Act to reduce and modify the Rates of Postage in the United States." To encourage public use of the federal postal system, it established new, usually reduced, rates for more types of usages than any previous legislation and increased the postal distances per rate by up to ten times-for example, from three hundred to 3,000 miles. These included a one-cent rate for printed matter; a new three-cent rate to replace the earlier five- and ten-cent rates for letters; and ten-, twelve-, and thirty-cent rates and above for more complex usages. The act drove the need for new stamps of varying denominations.
Toppan, Carpenter, Casilear & Co. was awarded a six-year contract (1851-1857), which was later extended to 1861. In the mid-1850s, Casilear left the company to become a professional artist. His works are held in important U.S. museums. When Casilear left and the company name reverted to Toppan, Carpenter & Co., the remaining partners merged with several other firms (including Rawdon, Wright, Hatch & Edson) to form the American Bank Note Company. Toppan, Carpenter & Co. had a 22.4 percent share in this new company. Stamps printed after the 1858 merger would still carry the Toppan, Carpenter & Co. name.