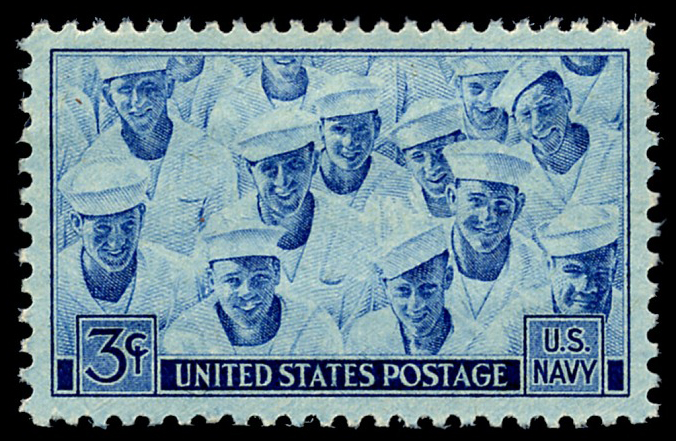 In March 1945, when President Franklin D. Roosevelt approved a stamp series to honor World War II's armed forces, the various branches of service offered design suggestions. Secretary of the Navy James Forrestal submitted two photographs to Postmaster General Frank Walker as possible designs for the American Navy stamp.
No one image, claimed Forrestal, captured the navy's spirit. "No single group—gunners, navigators, signalmen, aviators, submariners—typifies the whole navy the way infantrymen typify the marines," he said. Still, he sent one photograph of "part of the fleet . . . entering anchorage after the first sweep of the China Sea early this year" and another of a gun crew preparing for the bombardment of Peleliu, Palau. Neither image completely satisfied him, and he closed his letter to Walker saying, "If you share my doubts about these Navy suggestions and if you are not pressed for time, I suggest you let us continue searching."
By July 2, 1945, Third Assistant Postmaster General Lawler forwarded a photograph of a stamp model to Captain Edward J. Steichen at the Navy Department for consideration and suggestions. Lawler told Steichen, "It is possible at this stage to make any change in the model that you deem desirable." The design was based on a photograph of young, smiling sailors in summer whites, crowded together and looking up to the photographer. The photograph's origin later came into dispute.
By August 23, 1945, the approved model was returned to the Bureau of Engraving and Printing. Lawler included a reminder that the seamen's features must be altered sufficiently in the master die" so that the stamp will conform to law stating, "No living person shall be honored by portrayal on any U.S. postage stamp."
The stamp was issued on October 27, 1945, at Annapolis, Maryland, site of the United States Naval Academy.
According to official information, Edward Steichen, chief of the photographic department of the Navy Combat service, submitted the design for the stamp. There was no immediate information, however, as to when and where the original photograph was taken. Investigations found that the picture had been taken at the Naval Training Station, Corpus Christi, Texas, on November 9, 1942, and that Bob Towers had taken it.
At the time of issue, many sailors believed that they were pictured on the stamp, which featured eleven faces. Thirty years later, two Kansas City postal employees were confirmed to be part of the group—Charles Atkinson and Joseph Corbin. Atkinson and Corbin had joined the navy together in 1942, and had received training in Corpus Christi, where Bob Towers took their picture. After the war, postal employee Atkinson and photographer Towers both relocated to Phoenix, Arizona. There the stamp editor of the Phoenix Republic-Gazette, James Chemi, heard both stories regarding the 1945 Navy stamp, and he wrote an article for Gibbon Whitman Stamp Monthly. Atkinson and Corbin reunited when Atkinson returned to Kansas City in 1961.