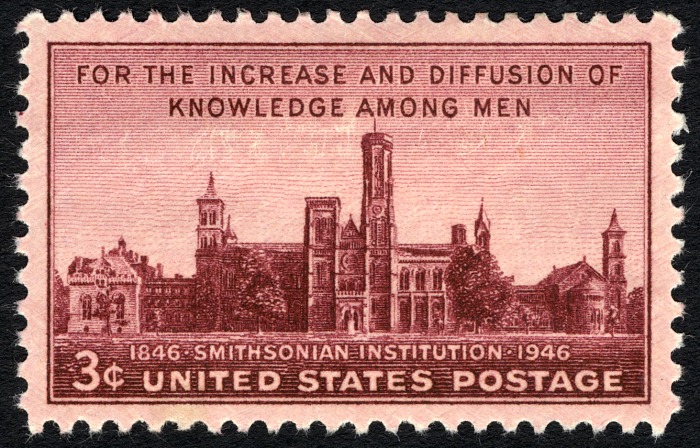 The world's largest museum and research complex, the Smithsonian Institution was founded on August 10, 1846, through a $500,000 bequest from English chemist James Smithson (the equivalent of $10,000,000 in 2008 dollars.) The motive for this bequest remains shrouded in mystery; there is no evidence that Smithson ever visited the United States or had anything more than casual contact with American scholars.
In 1940, Smithsonian Secretary Charles Greeley Abbott first proposed "a series of three stamps" to mark the Smithsonian's approaching one hundredth anniversary. President Franklin Delano Roosevelt was receptive, but Postmaster General Frank C. Walker recommended that Abbott hold his request until the fall of 1945, when the 1946 stamp program would be determined.
On March 6, 1946, Chief Justice Harlan Fiske Stone, in his capacity as chancellor of the Smithsonian, wrote to President Harry S Truman and renewed the Institution's request for a centenary commemorative stamp (there was no further mention of a series of stamps). Stone proposed that the stamp show the Institution's first museum, the Norman-style castle designed by James Renwick, which occupies a place of prominence on the National Mall. The Castle served not only as the Institution's first museum; it was also the home of the Institution's first secretary, Joseph Henry. It now serves as the Smithsonian's administrative headquarters. The stamp's maroon color mimics the Castle's Seneca Creek sandstone façade. The First Day of Issue ceremonies, which were broadcast on national radio, were held at the National Museum of Natural History on August 10, 1946.
The Smithsonian centenary stamp was denominated at three cents, which paid the domestic letter rate for surface letters weighing one ounce or less. (This was also pursuant to Stone's recommendation; he wanted the anniversary to be "brought to the attention of people throughout the country.") It was printed on the rotary press in sheets of two hundred that were divided into four panes of fifty stamps each for sale at post offices. William K. Schrage designed the stamp with significant input from Smithsonian officials. Edward R. Grove engraved the vignette. Charles A. Smith engraved the frame, lettering, and numerals.
References:
National Postal Museum Library, Papers of the Third Assistant Postmaster General, Stamp Design Files, Folder for Scott #943.

Glass, Sol. "Smithsonian Institution Centennial Stamp." Bureau Specialist xvii:11 (November 1946), p. 247.

_____. United States Postage Stamps, 1945-1952. West Somerville, MA: Bureau Issues Association, 1954. pp. 45-46.

Johl, Max G. United States Commemorative Stamps of the Twentieth Century. New York: Harry L. Lindquist, 1947. pp. 314-318.
Daniel Piazza, National Postal Museum and Gordon T. Trotter