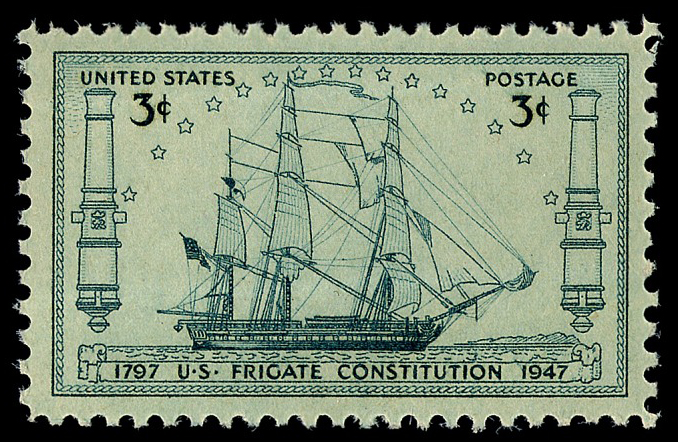 The Post Office Department issued a stamp honoring the 150th anniversary of the USS Constitution ("Old Ironsides") on October 21, 1947. Naval architect Andrew H. Hepburn of Boston designed the stamp after considerable historical research.
The stamp received criticism for ignoring the ship's grandeur and thereby under-representing the role it played in building America. While many stamp designs have been challenged and criticized over the years, the uproar over Old Ironsides was one of the loudest ever. Typical of the very strong criticisms was that of Elmer C. Pratt, the stamp columnist for Camden, New Jersey's Courier-Post. "The idea of showing that great fighting hero as a mimbly-pimbly boat sailing along in a light wind . . . when all her life she was a fighting ship full of fight. She should have been shown in a heavy wind, with full sails set, in a heavy sea, going someplace where she should be going, often did and as a rule won the day-into a well fought and victorious battle."
Launched in 1797, the USS Constitution was one of the six original frigates authorized for construction by the Naval Act of 1794. Named for the United States Constitution, the wooden-hulled, three-masted heavy frigate of the United States Navy is the world's oldest commissioned ship afloat.
The September 29, 1947, issue of Linn's Stamp News, which announced the issuance of the Old Ironsides commemorative, contains a detailed dedication to several people who worked long and hard to ensure the stamp's release. It concludes, "This issue is dedicated to those enthusiasts, in all parts of the world, who prize the life, liberty and the pursuit of happiness so well symbolized by that gallant ship of the line, the 'US Frigate Constitution'."
The First Day ceremony was held on the decks of the USS Constitution, located in Boston's Charlestown Navy Yard. The Boston Post Office prepared an eight-page souvenir program for all of the ceremony attendees. The back cover of the program featured the poem "Old Ironsides" by Oliver Wendell Holmes.
The Bureau of Engraving and Printing printed 131,488,000 USS Constitution stamps. An unusually high number of stamps sold on the first day, totaling 4,700,000. Nearly 700,000 first day covers were processed.
Steven J. Rod