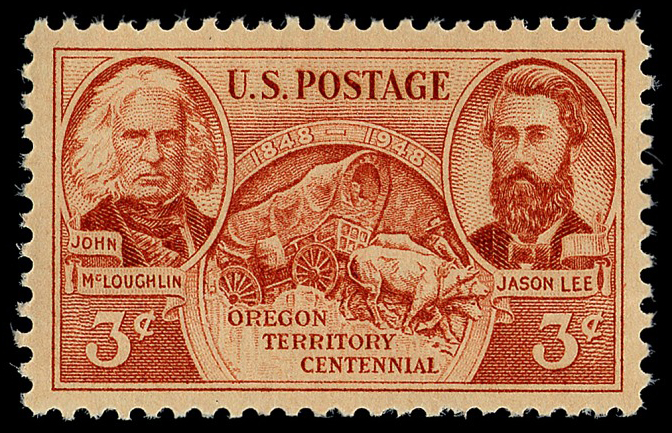 The Post Office Department issued the Oregon Territory stamp on August 14, 1948, at Oregon City, Oregon, to commemorate the Oregon Territory Centennial. The stamp's vignette depicts a wagon on the Oregon Trail with text in dark Roman lettering that reads "Oregon Territory Centennial" within a circle in which appears in white Gothic the dates "1848-1948." Arranged in the upper left and upper right corners, respectively, are ovals bearing the portraits of John McLoughlin and Jason Lee.
As the Chief Factor of the Columbia District of the British Hudson's Bay Company, John McLoughlin was one of the most influential figures of the Pacific Northwest's fur trade and settlement periods. He eventually became an American citizen at Oregon City and is often referred to as the 'Father of Oregon.' Jason Lee is credited with helping to establish the early foundation of a provisional government in the Oregon Country.
C.R. Chickering of the Bureau of Engraving and Printing designed the stamp from photographs obtained from the Oregon Historical Society and furnished to the Post Office Department by the Oregon Territorial Commission. Carl T. Arlt engraved the vignette and portraits, and E.H. Helmuth engraved the frame and lettering.
Steven J. Rod