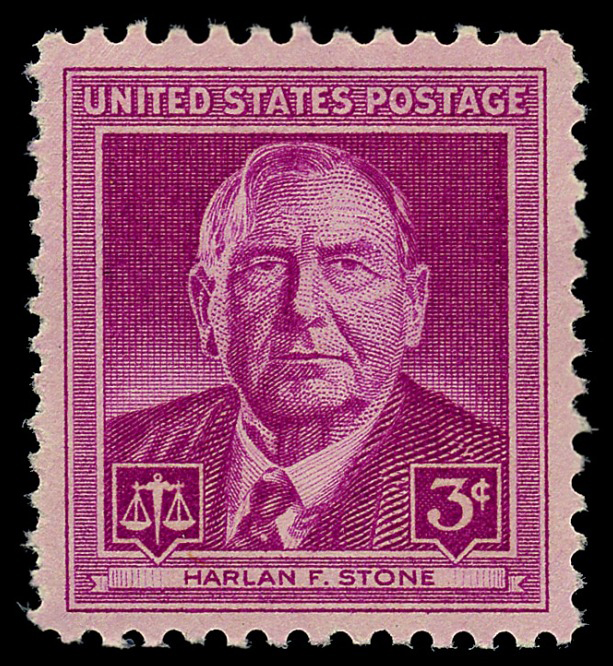 Harlan Fiske Stone (1872-1946) served as attorney general of the United States, associate justice of the US Supreme Court, and chief justice of the United States. He was first nominated to the Court by President Calvin Coolidge, serving as associate justice March 2, 1925, until July 2, 1941. Nominated by President Franklin D. Roosevelt, he became chief justice of the Supreme Court on July 3, 1941.
In 1946, at the age of 73, Stone died of a cerebral hemorrhage while on the bench reading his dissent in the case of Girouard v. United States, 328 U.S. 61 (1946). He is the only Supreme Court justice to have died during an open court session. Justice Stone is also the only justice to have physically filled all nine seats on the bench, having begun as the most junior associate justice and moved upwards to most senior associate justice and finally to chief justice.
Sol Glass reported, "The announcement that a special commemorative stamp would be issued honoring the late Chief Justice Harlan Fiske Stone came as a complete surprise to collectors, as the announcement itself was no more than a listing of stamps to be issued by the Post Office during the balance of 1948 and included in the Post Office Department release dated July 31, 1948." The stamp was issued in connection with the dedication of a memorial plaque to the late chief justice in front of the farm house where he was born in 1872, in Chesterfield, New Hampshire. In attendance were justices Felix Frankfurter, Harold Hitz Burton, and Stanley Forman Reed.
President Truman, who always held the chief justice in the highest esteem, personally authorized the issuance of this stamp. There were almost 363,000 First Day covers cancelled, and a total of just under 54,000,000 stamps issued.
Harlan Fiske Stone was awarded an honorary MA degree from Amherst College in 1900 and an honorary JD degree from Amherst in 1913. Yale awarded an honorary JD degree in 1924, with Columbia and Williams each awarding the same honorary degree in 1925.
Stone married Agnes E. Harvey in 1899. Their children were Lauson H. Stone and the mathematician Marshall H. Stone. Harlan F. Stone II, Lauson's son, is a noted American philatelist who won the World Series Champion of Champions philatelic competition in 2005 with his exhibit "Switzerland 1862-1883: The Perforated Sitting Helvetia."
Reference: The Bureau Specialist. 1949.
Steven J. Rod