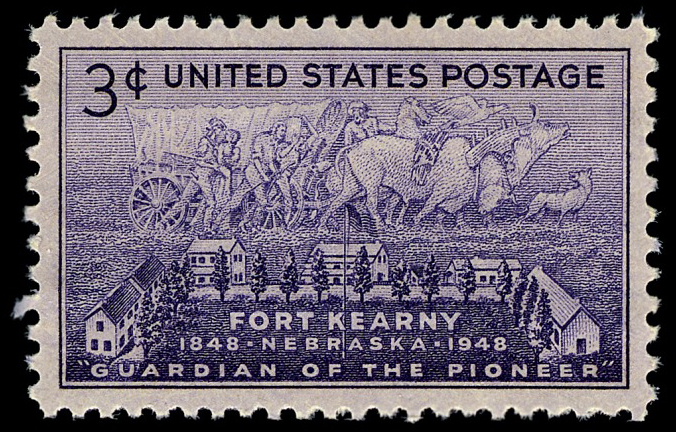 The Post Office Department released its Fort Kearny (Nebraska) issue on September 22, 1948, to commemorate the fort's hundredth anniversary. The vignette features a partial view of Fort Kearny, above which is a reproduction of a sculpture of a pioneer group, the original of which is located in the state's Capitol. Ceremonies took place at the fort, but first day covers bear the Minden, Nebraska, postmark. The fort lies thirteen miles northwest of Minden and eight miles southeast of Kearny.
In the July 13, 1948, issue of Western Stamp Collector, editor Al Burns noted, "With a stamp commemorating Fort Kearny in the offing, it is interesting to note that it has been spelled 'Kearney' and 'Kearny' at various times, and it is the intention of the World-Herald of Omaha, Nebr., that 'Kearny' is the correct one even though Kearney, Nebr., named for the fort, is spelled with a second e." Even thought the 1948 Joint House Resolution 341 authorized "a special series of stamps in commemoration of the founding of Fort Kearney in the state of Nebraska," the World-Herald's spelling choice prevailed.
W.K. Shrage of the Bureau of Engraving and Printing designed the stamp, having referred to a photograph of Fort Kearny from Army Pictorial Service Division, Still Picture branch at the Pentagon in Washington. He also referred to a photograph of a pioneer group from a book titled "The Architectural Sculpture of the State Capitol at Lincoln, Nebraska," by Charles Harris-Whitaker and Hartley Burt Alexander. G.A. Gunderson engraved the vignette; A.W. Christensen engraved the frame, lettering, and numerals.
References:
Western Stamp Collector. Mill City, Oregon. (July 13, 1948), 2.

Bureau Specialist. West Somerville, Massachusetts: Bureau Issues Association, Inc. (May 1949), 135.
Steven J. Rod