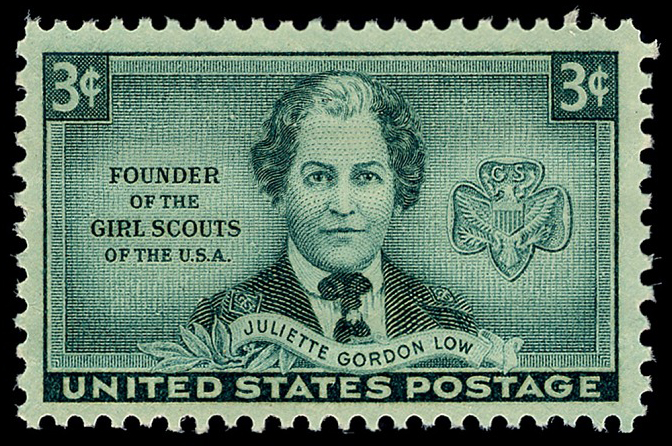 On October 29, 1948, a postage stamp was issued to honor Juliette Gordon Low, the founder of the Girl Scouts organization. Juliette "Daisy" Gordon Low was born into a prominent Savannah, Georgia family in 1860. At boarding schools in Virginia and New York, Daisy showed great interest in and aptitude for literature and the arts, as well as a love of animals and nature. After school she traveled extensively throughout the United States and Europe, and in 1886, she married British heir, William Mackay Low. After suffering from brain fever as a child, she had experienced severe hearing loss in one ear, only to lose hearing in the other ear when a piece of good-luck rice from their wedding reception pierced her eardrum.
The Lows' marriage lasted 19 years until William's drinking and philandering forced Daisy to seek a divorce. During the process, he died suddenly, leaving most of his estate to his mistress. Wanting to do something productive with her life, Daisy was inspired by a meeting with Sir Robert Baden-Powell, founder of the Boy Scouts and Girl Guides, and began to focus her energies on spreading this youth movement to the United States.
In 1812, Daisy started the first Girl Guides group in the United States. The next year, the organization changed its name to Girl Scouts. Daisy Low dedicated the rest of her life to bringing girls from varied backgrounds together, introducing them to the natural world, developing their skills of independence and resourcefulness, and preparing them for futures as professional women involved in their communities. Juliette Gordon Low died of breast cancer in 1927. By 2001, the organization she founded with 12 girls 89 years previously had grown to 3.7 million members.