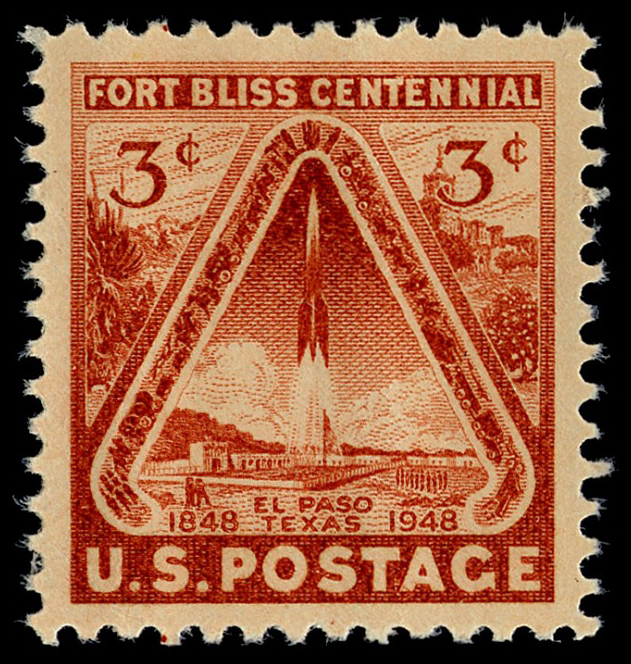 This stamp was issued to honor the 100th anniversary of Fort Bliss in El Paso, Texas. It is probably the best US commemorative stamp for a challenging "stamp trivia" game. "Which United States stamp features a camel on it?" — Scott #976, the Fort Bliss Centennial stamp. "Which stamp was the first stamp to picture a rocket?" — Scott #976, the Fort Bliss Centennial stamp.
The stamp's designer, Charles R. Chickering, wanted the stamp to depict the old and the new and portray some of the highlights of Fort Bliss's hundred-year history . . . a tall order for such a tiny painting!
The stamp's vignette features a triangularly shaped frame featuring an image of Fort Bliss and a rocket ship in flight. Below the "3c" on the left appears a mountain scene, and below the "3c" on the right appears an old mission. Chickering cleverly used the border of the triangle to engrave a long line around the three sides of men and vehicles, representing "the military of Fort Bliss and the civilians of El Paso and the Southwest" walking down the road together in the hundred-year period. There is a covered wagon drawn by oxen at the lower left, motorized heavy military equipment at lower right, and the camel appears on the upper left near the point of the triangle, just ahead of the horse-drawn stage coach.
The color of the stamp, noted as "brown" in the Scott Specialized Catalogue, suggests a desert sunset, while the rocket ship symbolizes modern military operations.
Third Assistant Postmaster General Joseph L. Lawler dedicated the stamp in El Paso on November 5, 1948.
Charles R. Chickering of the Bureau of Engraving and Printing designed the stamp. C.A. Brooks engraved the vignette, and A.W. Christensen engraved the border, the lettering, and the numerals.
The Bureau Specialist of December 1949 notes that there were numerous sources for the design, including a photograph of the mountain from the booklet entitled "El Paso, Texas" published by the El Paso Sunland Club and a photograph of the mission from the book entitled, "This is Texas-A photographic tour of the Greatest State," by Michael Scully.
References:
Bureau Specialist. West Somerville, Massachusetts: Bureau Issues Association, Inc. (December 1949), 283.

S.P.A. Journal. Parma Heights, Ohio: Society of Philatelic Americans 39, no. 6 (1977): 557.

Stamps. Hornell, New York: Lindquist Publications. (October 16, 1948), 114-115; (November 27, 1948), 407; (October 12, 1949), 273-274.
Steven J. Rod