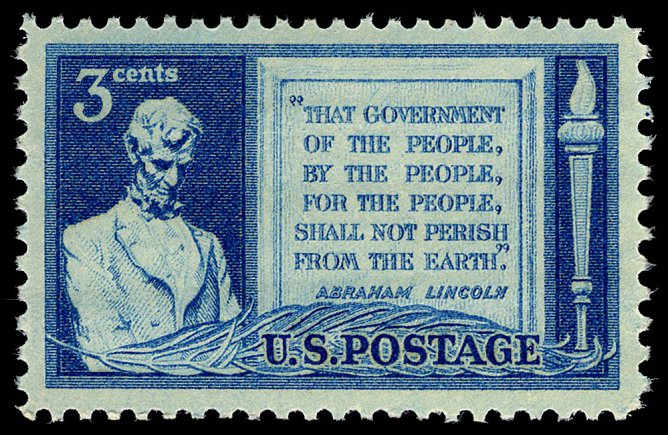 The Post Office Department released the commemorative Gettysburg Address issue on November 19, 1948,eighty-five years to the day after President Abraham Lincoln delivered his most famous speech. Lincoln delivered the "Gettysburg Address" at the dedication of the Soldiers' National Cemetery in Gettysburg, Pennsylvania, on Thursday, November 19, 1863,four and a half months after Union armies defeated those of the Confederacy at the decisive Battle of Gettysburg. Lincoln's carefully crafted address, secondary to other presentations that day, stands as one of the greatest speeches in American history.
Beginning with the now-iconic phrase "Four score and seven years ago," Lincoln invoked the principles of human equality espoused by the Declaration of Independence. He described the ceremony at Gettysburg as an opportunity not only to dedicate the grounds of a cemetery but also to consecrate the living in the struggle to ensure that "government of the people, by the people, for the people, shall not perish from the earth."
On November 20, 1947, Pennsylvania's Senator Francis J. Meyers introduced legislation to have a stamp issued on the anniversary of the famous speech. President Truman signed it into law on June 29, 1948, and the stamp was issued on November 19 of the same year.
Charles R. Chickering designed the stamp; Robert M. Bower engraved the portrait, torch, palm branch, and the shaded border; Axel W. Chtistensen engraved lettering and numerals.
The stamp features an image of President Abraham Lincoln on a dark background. To the image's right is a plaque bearing Lincoln's words, "That Government of the people, by the people, for the people, shall not perish from the earth." The words are shaded Roman type and Abraham Lincoln in shaded Gothic. A lighted torch on a dark background panel forms the right portion, and a palm branch extends across the bottom border, over which appears dark Roman lettering, "US Postage." The denomination appears in white Roman in the upper left corner.
Third Postmaster General Joseph J. Lawler presided over the First Day ceremony, which occurred at the same time and place as did the original speech. Lawler closed the ceremony saying, "It is fitting therefore that this great nation gives official and concrete recognition to that noble creed. So today the Post Office establishment (sic), 'the most human instrument of this Government structure,' gives substance to this recognition by the issue of a special 3-cent postage stamp commemorating the occasion of Lincoln's immortal Gettysburg address."
Reference: Postal Bulletin (October 28, 1948).
Steven J. Rod and Thomas Lera