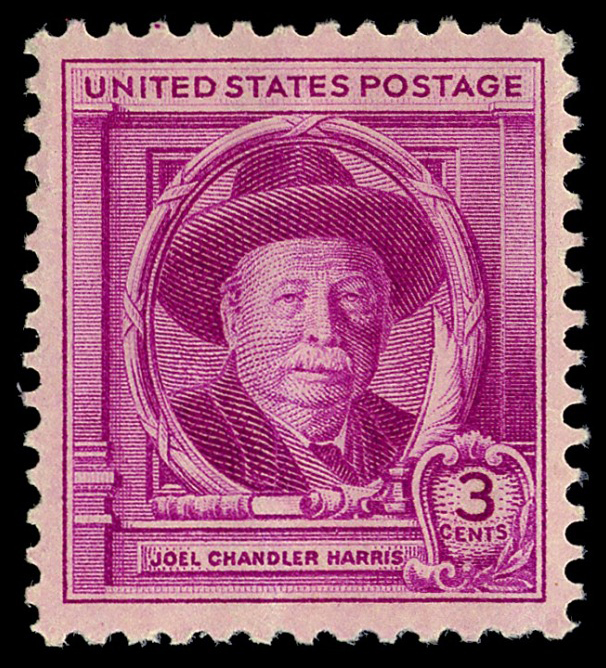 Officials seriously considered writer Joel Chandler Harris (1848-1908) for 1940's Famous American Series. He was not among the final five chosen, however. Eight years later, Postmaster General Jesse Donaldson chose Harris's hundredth anniversary — December 9, 1948 — and his hometown, Eatonton, Georgia, for the first day of sale of this Famous American-type stamp. Preceding the stamp's issuance by two years, the Walt Disney Company produced a film based on Harris' work called "Song of the South," a feature film released on November 12, 1946.
Joel Chandler Harris wrote the Uncle Remus stories, which used a black dialect, a revolutionary technique in its day. In Harris's books, a slave named Uncle Remus entertained a young white boy with tales about Br'er Rabbit and Br'er Fox and the other critters in the Briar Patch.
In 1862, Harris left Eatonton to work as a printer's assistant, and he eventually landed a job at the Atlanta Constitution. In 1880, he published the collection "Uncle Remus, His Songs and Sayings," and in 1883 "Nights with Uncle Remus" appeared.
The Bureau of Engraving and Printing produced the stamp in bright red violet, although the Post Office Department announcement called it purple. It was printed on the rotary press on 280 subject plates, divided into panes of seventy stamps each, and arranged ten vertical by seven horizontal rows.
W.K. Schrage of the Bureau of Engraving and Printing, who followed the (original 1940) Famous American Series design by W.A. Roach, designed the Harris stamp. He used a photograph of Harris by Miss Frances Johnson of Washington, DC, as a model. The Harris stamp was one of seven stamps issued between 1947 and 1950 that mirrored the design of the 1940 Famous American Series.
According to Post Office Records, a total of 57,492,610 stamps were issued. There were 823,779 stamps sold at the ceremony in Eatonton, Georgia, and 426,199 first day covers were processed that day.
Steven J. Rod