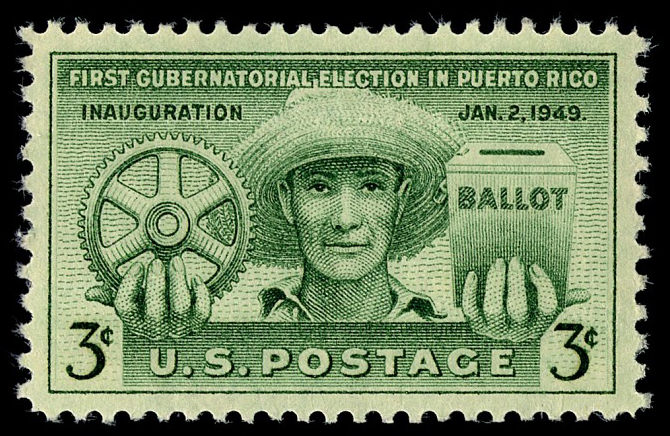 The United States Post Office Department issued this stamp to commemorate the first free election for governor of the US territory of Puerto Rico. Prior to January 2, 1949, the US president appointed Puerto Rico's governors. The stamp was first placed on sale on April 27, 1949, at San Juan, Puerto Rico.
The stamp's vignette features an image of a rural Puerto Rican holding a cogwheel, which represents industry, and a box, representing the election. The word 'Inauguration' appears above the cogwheel and refers to the election of Luis Munoz Marin (1898-1980), the first democratically elected governor of Puerto Rico. The United States issued a 5-cent definitive stamp in Marin's honor on February 18, 1990.
In his campaign for governor, Munoz said, "Don't trust politicians, even me. If you want to sell your vote, go ahead: it's a free country. But make up your minds that you can't have justice and the $2.00."
Speaking at the First Day ceremony, Third Assistant Postmaster General Joseph J. Lawler noted, "One of the most important instruments of a healthy, growing and free society is the ballot box — that inviolate haven where the people may choose public officials to represent them in the affairs of the government. The president of the United States, seeing the significance of this occasion, asked Postmaster Jesse M. Donaldson to issue a special postage stamp in recognition of this noteworthy date in the annals of Puerto Rico."
A bold-faced box on the front page story of Western Stamp Collector of April 5, 1949, summed-up the confusion the announcement of the stamp to be issued in San Juan had caused: "In connection with the Puerto Rico election commemorative, many collectors don't seem to understand that it is a United States commemorative. It will available at post offices in the US and at the Philatelic Agency, as other US commemoratives are."
C.R. Chickering of the Bureau of Engraving and Printing designed the stamp, inspired by a pencil sketch prepared by Irene Delano of the Office of the Governor of Puerto Rico. G.A. Gunderson engraved the vignette, and J.S. Edmondson engraved the frame lettering and numerals.
References:
Western Stamp Collector. April 5, 1949, 1.

Linn's Weekly Stamp News. March 26, 1949, 1.

The Bureau Specialist. November 1949, 267.
Steven J. Rod