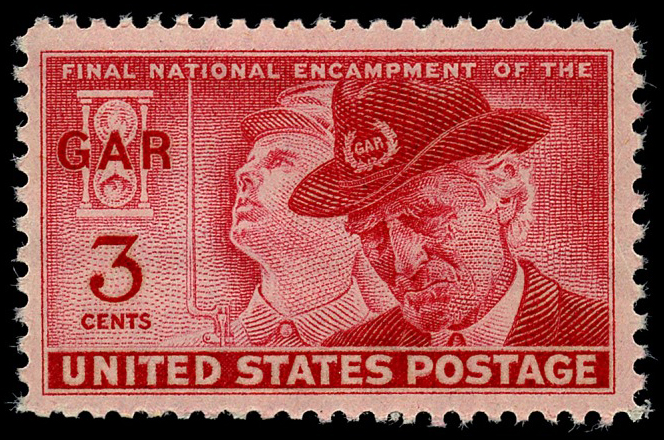 Attendees of the eighty-second National Encampment of the Grand Army of the Republic (G.A.R), held at Grand Rapids, Michigan, on September 29, 1848, petitioned the Post Office Department to issue a stamp honoring the Grand Army. The request asked that the Post Office Department release the stamp at the Order's final national encampment, to occur in the summer of 1949 in Indianapolis, Indiana.
Union veterans organized the G.A.R. on April 6, 1868. As the years passed, its membership dwindled, until only a handful of veterans, all more than a hundred years old, were still living for the 1948 reunion. As a result, the organization anticipated winding-up its affairs and disbanding at the Indianapolis encampment.
A hold-the-press announcement on the front page of Western Stamp Collector for July 12, 1949, proclaimed, "Postmaster General Donaldson announced June 28 that a commemorative stamp has been authorized for issue during the last national encampment of the Grand Army of the Republic, Aug 28 to Sept 1 in Indianapolis Ind."
Speaking at the First Day Ceremony, which was held at Monument Circle in Indianapolis, Deputy Assistant Postmaster General Robert E. Fellers said, "The issuance of this United States postage stamp will pay tribute to those gallant sons who made it possible for every citizen of this glorious country of ours to enjoy the privileges of a United States of America. It is indeed gratifying to be able to greet some of these veterans here today, all of whom have passed the century mark. This fine organization, whose cardinal principles are Fraternity, Charity, and Loyalty, gave to the Nation five Presidents, including Ulysses S. Grant, Rutherford B. Hayes, James A. Garfield, Benjamin Harrison, and William McKinley."
Charles R. Chickering of the Bureau of Engraving and Printing created the stamp's original design. Charles A. Brooks engraved the vignette, and A.W. Christensen engraved the frame, lettering, and numerals.
References:
Western Stamp Collector. Mill City, Oregon. July 12, 1949.

Stamps. Hornell, New York: Lindquist Publications. January 15, 1949.

Bureau Specialist. West Somerville, Massachusetts: Bureau Issues Association, Inc. (February 1950), 38-39.
Steven J. Rod