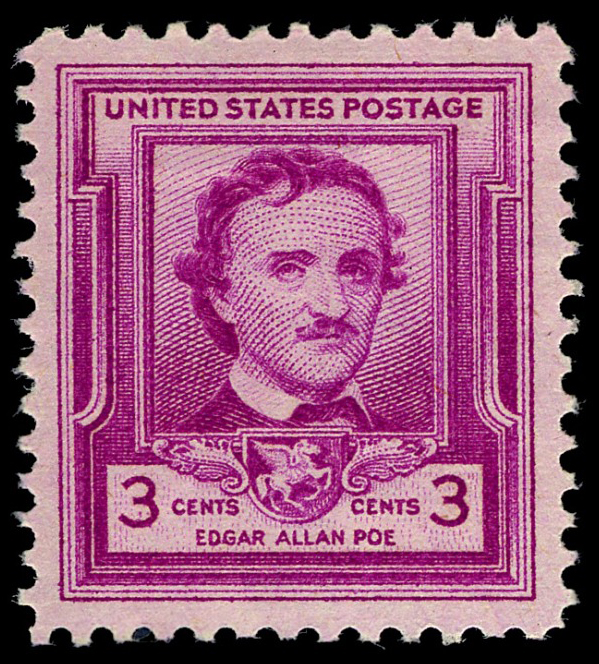 Today, when the Postal Service honors a famous American on a stamp, it often celebrates the 100th anniversary of his or her birth. Issued on October 7, 1949, this stamp commemorates the 100th anniversary of Edgar Allan Poe's death. The design replicated the format of the 1940 Famous American Series of thirty-five stamps. The Post Office Department had considered including Poe in the series at that time.
A few detractors criticized the selection. Writing in the October 11, 1949, issue of Western Stamp Collector, Doris Dedlow responded, "Why, some might ask, should a postage stamp be issued to honor a man with Poe's reputation. Accounts of his frequent drunkenness, instability and self indulgent character have almost become legend." The answer was, when "one picks up a volume of Poe's works and is fascinated by the beauty of his weird rhythmic poetry, or drawn cunningly into the neatly conceived and intriguing plots of his short stories, the reader cannot help but recognize the ability of this great man of letters."
Deputy Assistant Postmaster General Robert E. Fellers, added in his speech at the First Day Ceremony at Richmond, Virginia, "Although Poe's life span was short, he contributed so much to literature that his name will live forever. His masterpieces have translated into almost every foreign language, and it is doubtful that there is another American writer whose works have been more universally read or who has had greater influence in the field of writing than Edgar Allan Poe . . . . I dare say there is hardly a schoolchild today who is not familiar with his famous poems such as The Raven, The Gold Bug, and Annabel Lee. In addition to his poems, Poe is considered to be the originator of the mystery story and the father of the short story."
Bureau of Engraving and Printing artists referred to an original engraving of Poe by F.T. Stuart, obtained from the Library of Congress. Robert L. Miller prepared the model for the stamp using the design of the poets group of the Famous Americans Series of 1940, which was the work of William A. Roach. Richard M. Bower engraved the portrait; Charles A. Brooks engraved the frame; Axel W. Christensen and William B. Wells engraved the lettering and numerals.
References:
Western Stamp Collector. Mill City, Oregon. (September, 17, 1949), 1; (October 11, 1949), 7; (October 15, 1949), 1.

Bureau Specialist. West Somerville, Massachusetts.
Steven J. Rod