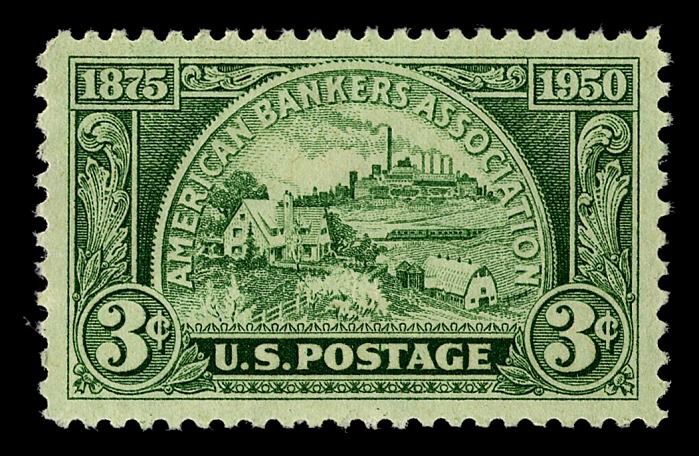 The Post Office Department issued this 3-cent stamp through the Saratoga Springs, New York, post office on January 3, 1950, to mark the 75th anniversary of the American Bankers Association.
Created by Charles R. Chickering, the stamp's central design portrays a home, farm, a train, and factory or mill, the group symbolizing the important fields that the American Bankers Association has so effectively served the nation. These various motifs are enclosed in an arch with milled edge remindful of a coin. Around the border of these symbols is the wording "American Bankers Association." The lettering "US Postage" in white modified Gothic appears just below the central portion in a dark panel. The Dates "1875" and "1950" appear in the upper left and right corners, respectively, in white Roman, each in a dark panel. These panels are joined by ornamental scrolls across the top and each is joined on the side borders in the same manner, with the denomination numeral "3c" in each lower corner on a shaded circular background.
The stamp was printed by a rotary process in green, electric-eye perforated,, with fifty stamps per pane. One hundred and fifteen million copies of this stamp were authorized for printing.
Reference: Postal Bulletin (December 20, 1949).
Jeffrie H. Lovell