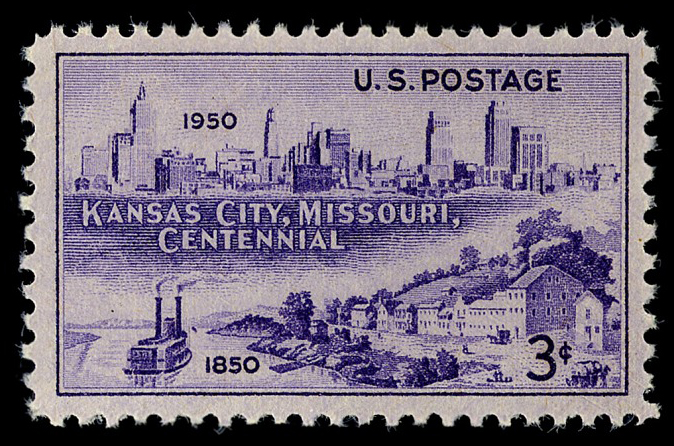 The Post Office Department issued a 3-cent stamp on June 3, 1950, to celebrate the centennial of the incorporation of Kansas City, Missouri. This stamp was the only one issued in 1950 to commemorate a city other than the Washington, DC, Sesquicentennial Series.
Designed by V. S. McCloskey, Jr., and engraved by R. M. Bower, this stamp features two panoramic views of Kansas City, Missouri. The upper left view is of Kansas City, 1950, and the lower right depicts Westport Landing, 1850. In the upper right corner are the words "US Postage." The denomination appears in the lower right. The dates 1850 and 1950 appear within each panoramic view.
Using perforations of 11 x 10.5, the Bureau of Engraving and Printing printed this violet stamp using a rotary press with electric eye plates. There were two hundred subjects divided into four panes of fifty each.
Reference:
Jeffrie H Lovell