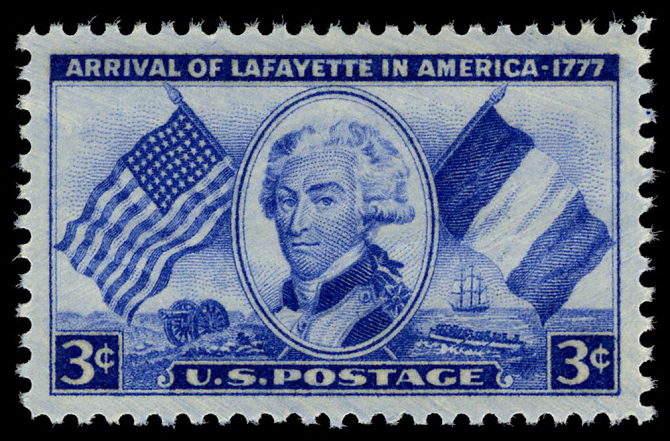 Gilbert du Motier, marquis de Lafayette (1757-1834), a French aristocrat and army officer, embraced the republican ideals of the late eighteenth century. He fought in the American Revolution, led the democratic faction in the National Assembly during the French Revolution, and was later exiled from France for his opposition to Napoleon's imperial ambitions. Despite a public renunciation of the peerage in 1790, he is still popularly known in America and France as the 'Marquis de Lafayette'.
The American Friends of Lafayette, an organization of professional historians and Francophiles, began campaigning for a commemorative stamp in Lafayette's honor as early as 1934. The Post Office Department finally released the stamp on June 13, 1952, the 175th anniversary of his arrival in America to take-up a major general's commission in the Continental Army. Georgetown, South Carolina, where Lafayette's ship, La Victoire, landed in 1777, hosted the stamp's First Day of Issue ceremony.
Some philatelists criticized the stamp's design by pointing out that, though the cannon and ship depicted are correct for the period, the flags are not. The French flag in June 1777 was the white royal standard of the House of Bourbon, and the thirteen-star 'Betsy Ross' American flag was adopted by the Continental Congress the day after Lafayette landed. The Post Office Department responded that "no attempt was made to present the flags that were in use at the time of Lafayette's arrival."
The stamp is denominated at 3-cent, which paid the domestic first-class letter rate, and was printed in bright blue ink on the rotary press in sheets of 200. These were divided into four panes of fifty stamps each for shipment to post offices. Victor S. McCloskey, Jr., designed the stamp, and Charles A. Brooks engraved the vignette. John S. Edmonds engraved the frame, lettering, and numerals.
Reference:
National Postal Museum Library, Papers of the Third Assistant Postmaster General, Stamp Design Files, Folder for Scott #1010.