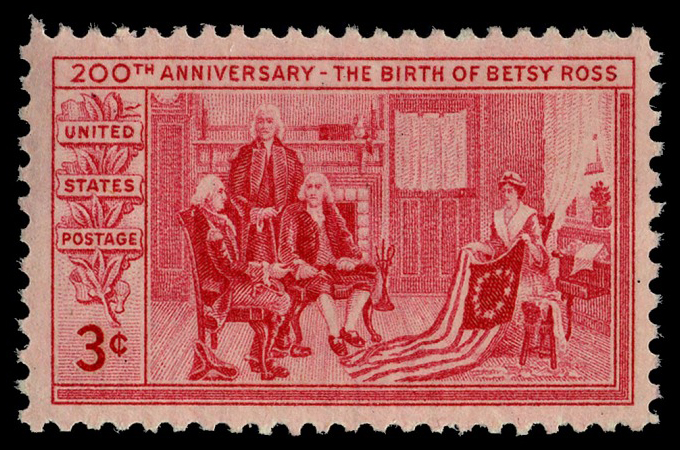 The 3-cent commemorative stamp honoring Betsy Ross was issued in Philadelphia on January 2, 1952, on the 200th anniversary of her birth. . First day of sale ceremonies took place at the Betsy Ross house. According to tradition, in June 1776 Betsy Ross met with George Washington, Robert Morris, and George Ross in her home, where she conducted an upholstery business, to discuss and design the nation's flag. Ross soon thereafter stitched together the first "stars and stripes." An oil painting by Charles H. Weisgerber titled "Birth of our Nation's Flag" inspired the stamp's vignette. The painting depicts Ross and her three callers.
Victor S. McCloskey, Jr., designed the Ross stamp, and the Bureau of Engraving and Printing produced it. The die engravers were Charles A. Brooks (vignette) and J.S. Edmondson (frame, numerals, and lettering), both also employees of the BEP. Six 200-subject electric-eye printing plates (#24574-24579) were made for and used on the rotary Stickney Press. Plates were used in pairs on the press, so each rotation of the press produced two sheets of 200 stamps. Each sheet was divided into four fifty-subject panes for distribution to post offices. Stamps were perforated 11x10.5 and printed on unwatermarked paper.
The 3-cent Ross commemorative paid the postage rate for a one ounce first-class domestic letter.