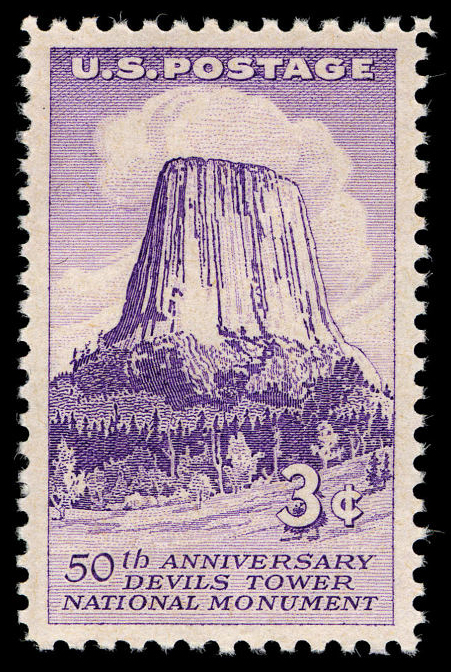 On September 24, 1906, President Theodore Roosevelt established Devil's Tower, Wyoming, as the nation's first national monument. Fifty years later, the US Post Office Department issued a 3-cent stamp in its honor.
Devil's Tower, which resembles a colossal petrified tree stump, is an 865 foot monolith formed deep in the earth from molten rock about fifty million years ago. With an altitude of 5,117, it towers 1,280 feet above the nearby Belle Fourche River, and from its thousand-foot wide base, it tapers to 275 feet at its flat summit. Today it is considered a sacred landmark by more than twenty Native American tribes and is used for funerals, prayer offerings, sweat lodge ceremonies, and Sun Dance rituals.
One story, common to the Kiowa, Arapaho, Crow, Cheyenne and Sioux tribes, describes a group of little girls pursued by a giant bear. According to the legends, "seven young Indian girls were one day playing in the forest when a great bear came upon them. The bear chased them, and the girls fled swiftly through the trees, but the bear slowly gained on them. The girls jumped upon a low rock and prayed loudly to the Great Spirit to save them. Immediately the small rock began to grow upwards, lifting the seven girls higher and higher into the sky. The angry bear jumped up against the sides of the growing tower and left deep claw marks, which are seen to this day on the rock walls. The tower continued to soar towards the sky until the girls were pushed up into the heavens, where they became the seven stars of the Pleiades."
Stephen Spielberg used Devil's Tower as a backdrop to his blockbuster 1977 movie "Close Encounters of the Third Kind."
Designed by Charles R. Chickering, the stamp was reproduced from a photographic print. The Bureau of Printing and Engraving printed the stamps measuring 0.84x1.44 inches in dimension. It was arranged vertically, printed by rotary press, electric-eye perforated, and issued in sheets of fifty. It was printed in a purple ink, and there were 118,180,000 stamps issued.
References:
Erdoes, Richard and Alfonso Ortiz. 1997. "American Indian Myths & Legends." Peter Smith Publisher. 544 pages.

Postal Bulletin (August 21, 1956).
Thomas Lera