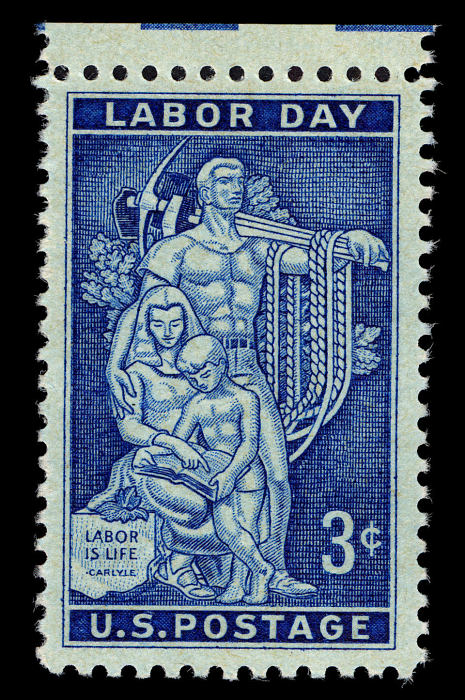 The Post Office Department released a commemorative stamp honoring American workers — the "Labor Day" stamp — on September 3, 1956, at Camden, New Jersey. In 1894, Congress designated the first Monday in September as a federal holiday known as 'Labor Day.' In an unprecedented event, a dedication ceremony preceded the First Day Ceremony. Ceremonies took place in the White House Rose Garden on September 1, with President Eisenhower attending.
The 3-cent stamp paid the postage on a one-ounce first-class letter.
The Bureau of Engraving and Printing produced the stamp, perforated 11 x 10 1/2, on the rotary web-fed press from four-hundred-subject engraved plates. Each sheet was cut into four panes of fifty stamps for distribution to post offices.
Victor S. McCloskey, Jr., of the Bureau of Engraving and Printing designed the stamp, using as source material a photograph of a portion of the mural by Lumen M. Winter located in the AFL-CIO building in Washington, DC. Richard M. Bower and Charles A. Brooks engraved the vignette. John S. Edmondson engraved the frame, lettering, and numeral. Stamps were printed from four plates: 25484, 25485, 25486, and 25489. Stamps were also printed from plate 24583, but that plate was found to be defective, and all printings from it were destroyed.
References:
Glass, Sol. "Labor Day Issue," The Bureau Specialist 27 no. 11 (1956): 291.

Cleland, W. Wallace. Durland Standard Plate Number Catalog. Katy, Texas: United States Stamp Society, 2008.