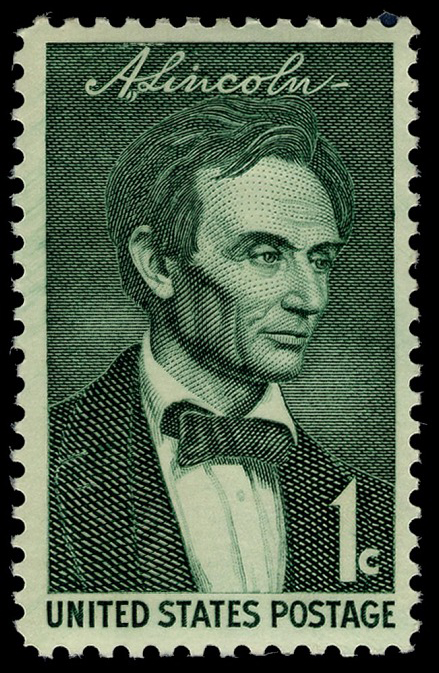 The Post Office Department issued a series of four commemorative stamps during 1958 and 1959 recognizing the 150th anniversary of Abraham Lincoln's birth in 1809.
The POD issued the first of the four stamps — a four-cent value that paid first-class letter postage — on August 27, 1958, at Freeport, Illinois. It commemorated the 1858 Lincoln-Douglas debates, held while the two competed for a US Senate seat from Illinois. Many dignitaries, including Postmaster General Summerfield and the governor of Illinois, attended the First Day Ceremony.
William K. Schrage of the Bureau of Engraving and Printing modeled the stamp based on design work done by Ervine Metzl of New York City. Matthew D. Fenton engraved the vignette; Reuben K. Barrick engraved the lettering, numeral, and frame. Stamps were printed from four plates: 26105, 26106, 26107, and 26108. Perforated 11 x 10 1/2, the stamp was printed on the rotary Cottrell press from four-hundred-subject engraved plates. Each sheet was cut into four panes of fifty stamps for distribution to post offices.
The POD issued the second stamp in the series — a one-cent value that paid postcard postage — on the February 12, 1959, Lincoln's 150th birthday. It held ceremonies in Hodgenville, Kentucky, the nearest post office to Lincoln's birthplace.