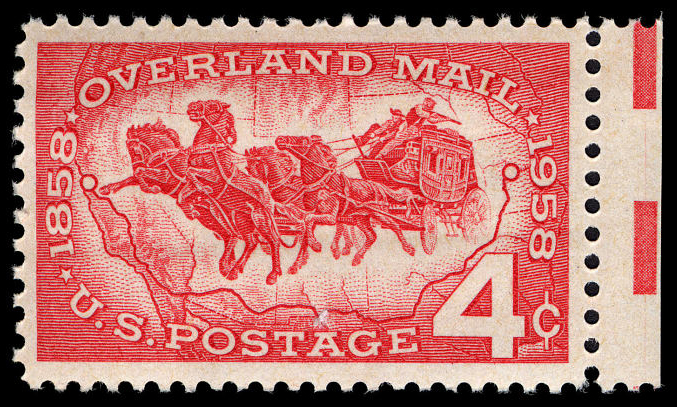 When US postage stamps were first issued in 1847, they held the promise that the entire country could be united by mail for no more than 10 cents per letter. However, there were no transcontinental mail routes; all letters between the east and west coasts had to be carried by ocean-going clipper ships.
James E. Birch's San Antonio & San Diego mail line began operating in August 1857. The following month, the US Post Office Department awarded to John W. Butterfield a $600,000 per year contract to carry the mail from Missouri to San Francisco, with service to begin in September 1858.
Beginning in 1957, enormous political pressure was placed on the Post Office Department to mark the anniversary of the Birch's and Butterfield's overland mail lines with a commemorative stamp. Finally, on November 2, 1957, a POD press release announced that the 1958 commemorative stamp program would include an issue "honoring the Centennial of the Overland Mail." A follow-up release named October 10, 1858 as the date of issue and specified that San Francisco would be the first day city because it "was the western terminal point of the overland mail." The choice of date and first day city, coupled with the fact that both postal communiqués referred to the overland mail in the singular, indicated that the Butterfield line was being commemorated to the exclusion of the Birch line.
In the end, the Bureau of Engraving and Printing artist Charles R. Chickering was commissioned to do an original painting of "a dramatic scene of an Overland Mail coach under attack. Designer William H. Buckley modified Chickering's artwork by eliminating the foreground and superimposing the vignette "on a map of the southwestern part of the United States." The lettering, which went through several modifications, vaguely honors "Overland Mail," but the course shown on the map is clearly the southern "oxbow route" used by the Butterfield until 1861. Charles A. Brooks engraved the die. The stamps were printed in orange red on the rotary press in sheets of 200 stamps that were cut down into four panes of fifty for sale at post offices and perforated 11 x 10 1/2.