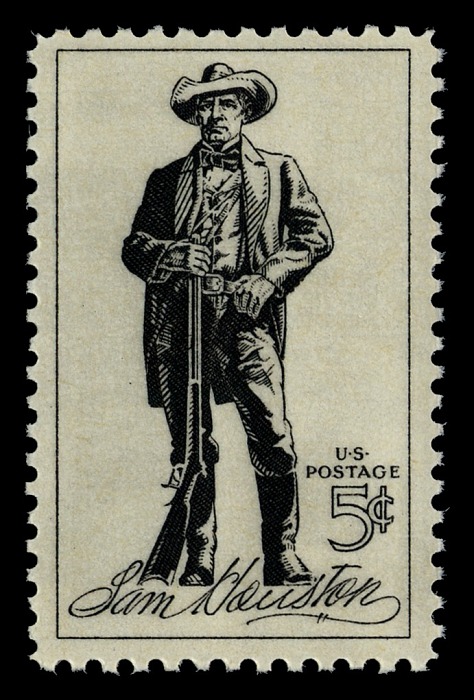 The only person in US history to serve as governor of two states (Tennessee and Texas), Samuel Houston (1793-1863) appears on the 5-cent commemorative stamp. The US Post Office Department issued the stamp in 1964.
Besides having served as governor of two states, he also held seats in Tennessee's House of Representatives, was elected president of the Republic of Texas, and was a US Senator, also from Texas. Houston is best remembered for his defeat of General Santa Anna and his Mexican forces at the Battle of San Jacinto on April 21, 1836, at which Texas won independence from Mexico.
On February 8, 1850, Houston delivered a passionate speech on the Senate floor that supported the Compromise of 1850. The Compromise sought to resolve conflicts over territory and slavery that threatened the nation's stability. Inspired by the Gospel of Mark 3:25, Houston stated, "A nation divided against itself cannot stand." Abraham Lincoln used a similar phrase in his 1858 senatorial campaign against Stephan Douglas.
Texas artist Tom Lea designed the 5-cent Houston commemorative stamp. Though he based his portrait of Houston on an 1848 lithograph by F. Davingnon, Lea's depiction presented Houston as he appeared ca.1836-1838, the years during which he served as the first president of the Republic of Texas.
The Stamp measures 0.84 x 1.44 inches vertical and was printed on a rotary press with an initial printing 130 million. It was issued through the Houston Texas Post Office on January 10, 1964.
References:
Postal Bulletin (November 14, 1963).

Braider, Donald. Solitary Star: A Biography of Sam Houston. New York: Putnam, 1974.

Cruce, Elizabeth Alvarez and Robert Plocheck. Texas Almanac 2008-2009: The Source for All Things
Thomas Lera