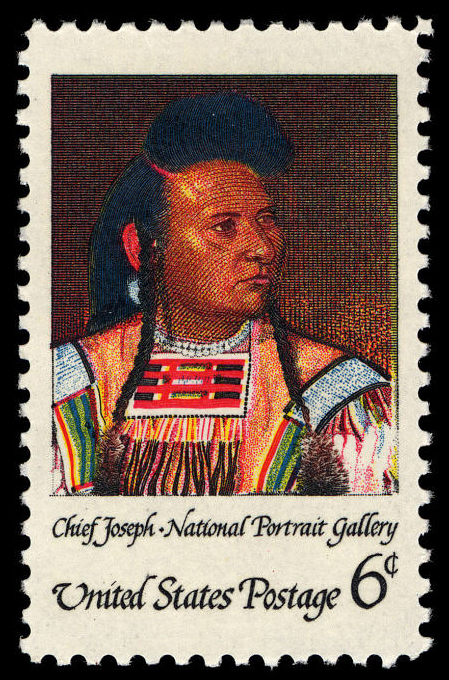 The 6-cent stamp portraying Chief Joseph, the great Nez Perce warrior, was first placed on sale at Washington, DC, on November 4, 1968, as a tribute to Indian heritage and to mark the opening of the National Portrait Gallery. It is the first multicolor US stamp to feature a Native American.
Born in eastern Oregon about 1840 as Hin-mah-too-yah-kekht's (Thunder Rolling down the Mountain), Chief Joseph led the Nez Perce in their fight against removal to a reservation by the federal government. After a valiant fight, Chief Joseph surrendered on October 5, 1877, with the immortal words, "I am tired of fighting. Our chiefs are killed. The old men all are dead…From where the sun now stands I will fight no more forever." After his surrender, Chief Joseph was taken to Fort Leavenworth as a prisoner, where in 1878 his portrait was painted by Cyrenius Hall. The 22x18 inch oil painting is in the collection of the National Portrait Gallery in Washington, DC.
This five-color stamp required three passes through the presses: two by offset and one by Giori. For the flesh tones, red and yellow were laid on by offset, followed by brown by intaglio. The warrior's hair was printed black by intaglio, with blue tones by offset. Robert J. Jones of the Bureau of Engraving and Printing designed the stamp. Calligraphy was by Crimilda Pontes of Washington, DC. The stamp was issued in panes of 50, with an initial printing of 120 million.
References:
Postal Bulletin (October 24, 1968).

Faries, Belmont. "American Indian." S.P.A. Journal (May 1971): 575-581.

"Address by Postmaster General W. Marvin Watson at the Dedication of the American Indian (Chief Joseph) Commemorative Stamps National Portrait Gallery." Information service Post Office Department General Release 222. November 4, 1968.

"Chief Joseph." www.pbs.org/weta/thewest/people/a_c/chiefjoseph.htm
Thomas Lera