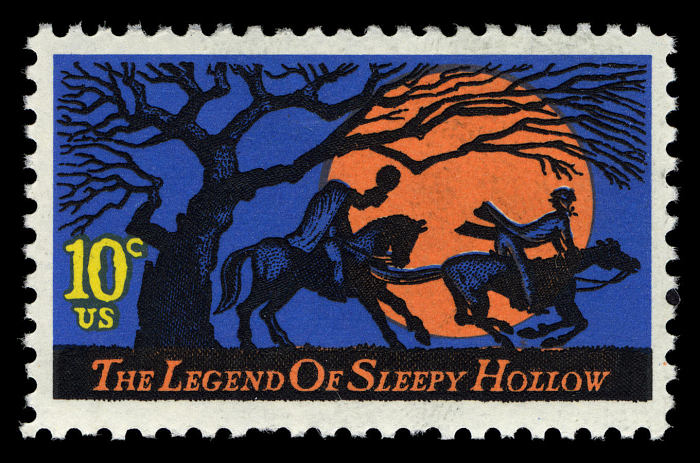 Issued on October 10, 1974, at Tarrytown, New York, the 10-cent American Folklore stamp features a scene from Washington Irving's "The Legend of Sleepy Hollow" in which the infamous Headless Horseman pursues protagonist Ichabod Crane. The short story demonstrates two qualities for which Washington Irving is best known: his humor and his ability to create vivid, descriptive imagery. Irving first published the short story in 1819-1820. He lived at Birmingham, England, at the time.
Designed by Leonard Everett Fisher, the stamps were lithographed with an initial printing of 140 million. The stamp dimensions measure 1.44 x 0.84 inches and have one plate number. "Mail Early" and Mr. Zip appear in the selvage on both the left and right side of each sheet.
References:
Hedges, William L. Washington Irving: An American Study, 1802-1832, Baltimore: Johns Hopkins Press, 1965, p. 142.

Martin, Terence. "Rip, Ichabod, and the American Imagination," American Literature, Vol. 31, May, 1959, pp. 137-149.

Postal Bulletin (August 29, 1974).
Thomas Lera