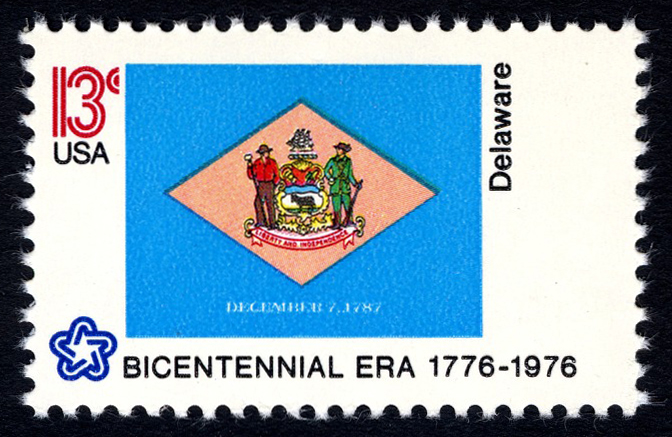 In observance of the American Bicentennial, a pane of stamps depicting the flag of each of the Union's fifty states was issued on February 23, 1976. The state flags are represented horizontally on the pane in the order in which they entered the Union. The flag of Delaware (the Union's first state) appears in the pane's upper left corner and that of Hawaiian (the Union's last state) appears in the lower right corner. This was the first pane with fifty different stamps ever issued.
The multicolored 13-cent State Flag stamps (Scott 1633-1682) were designed by Walt Reed, printed on the Bureau of Engraving and Printing seven-color Andreotti gravure press (601) as sheets of two hundred subjects, tagged, perforated 11, and distributed as panes of fifty.
Each stamp features the name of the state oriented vertically to the right of the centered state flag, the 13-cent denomination over "USA" to the left of the flag, and the Bicentennial logo with the phrase "BICENTENNIAL ERA 1776-1976" under the flag. Mr. Zip, "MAIL EARLY IN THE DAY," electric eye and registration markings, and six plate numbers, one in each color used to print the sheet, are printed in the selvage.