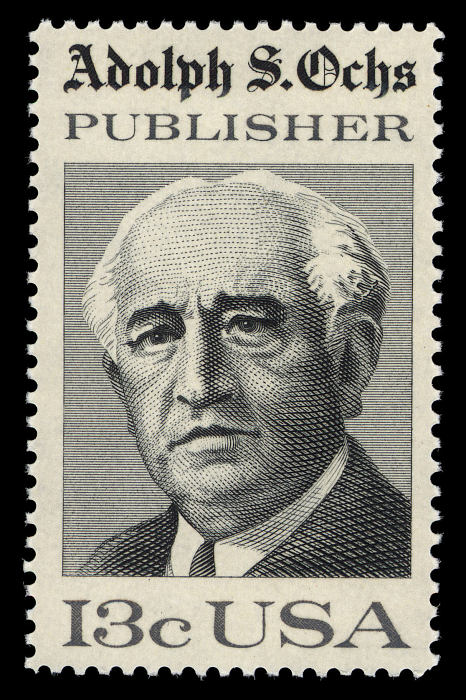 The 13-cent Adolph S. Ochs commemorative stamp (Scott 1700) was first available on September 18, 1976. The stamp was designed by Bradbury Thompson based on a S.J. Woolf photograph.
The black and gray stamp was printed on the Bureau of Engraving and Printing Giori press on sheets of 126 subjects, tagged, perforated 11, and distributed as panes of thirty-two (eight across and four down). Mr. Zip, "MAIL EARLY IN THE DAY," and a plate number in each corner are printed in the selvage.
On August 18, 1896, Adolph S. Ochs, publisher of The Chattanooga Times, acquired controlling ownership of The New York Times for $75,000, nearly all of it borrowed, installing himself as the newspaper's publisher. At that time, the newspaper enjoyed a circulation of 9,000. Och's slogan—"All the News That's Fit to Print"—first appeared on the editorial page on October 25 and was moved to page 1 on February 10, 1897. In a gamble, Ochs lowered the price of the daily paper to one cent on October 10, 1898. His goal: increase circulation above 26,000. Circulation tripled within a year to 76,000, and advertising revenues soared. By the 1920s, circulation rose to 780,000.
Ochs always put editorial independence ahead of profits. He would not accept dubious advertising or contracts with governments, which might be construed as compromising his political independence. The New York Times under Ochs' leadership became the first national 'newspaper of record' and proved that a publisher could reconcile mass circulation, profitability, and journalistic responsibility. From 1900 until his death he was also a member of the executive committee and a director of the Associated Press.
Ochs was born in Cincinnati in 1858 to German-Jewish immigrants, Julius and Bertha Levy Ochs. He served as publisher of the Times until his death on April 8, 1935.
References:
Scott 2005 Specialized Catalogue of U.S. Stamps and Covers

nytco.com/company-timeline-1881.html (accessed May 16, 2006)