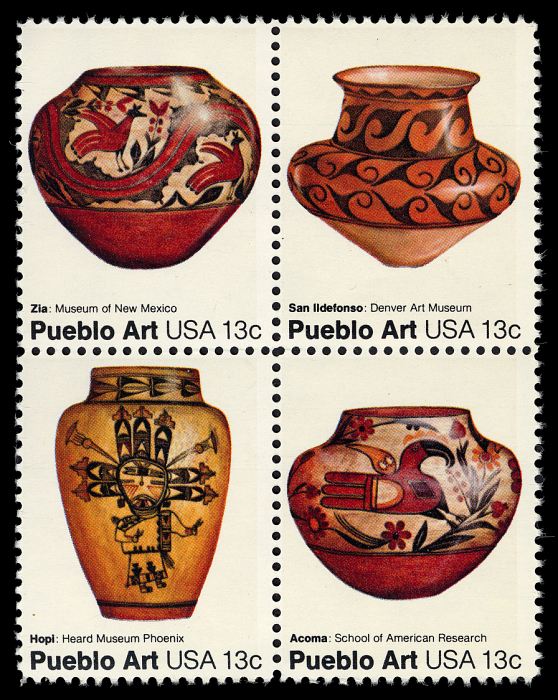 On April 13, 1977, the Postal Service issued four 13-cent stamps as a se-tenant issue titled Pueblo Pottery. Part of the American Folk Art Series, the stamp depicts a Zia pot (Scott 1706), San Lldefonso pot (Scott 1707), Hopi pot (Scott 1708), and Acoma pot (Scott 1709). Ford Ruthling designed the issue.
The multicolored stamps were printed on the Bureau of Engraving and Printing seven-color Andreotti gravure press (601) as sheets of 160 subjects, tagged, perforated 11, and distributed as panes of forty (eight across, five down). Mr. Zip, "MAIL EARLY IN THE DAY," electric eye markings, and five plate numbers, one in each color used to print the sheet, are printed in the selvage.
The pueblo best-known for its pottery is Zia pueblo, located on the Jemez River west of the Rio Grande. One of the distinctive marks of a Zia pot, the Zia bird appears on much of the pueblo's pottery. The image of the bird might or might not have a split tail; it almost always has straight beak. Another recognizable element, a single or double band called the 'rainbow band' runs from the top of the pot to the lower area. Flower motifs are also popular. Zia pottery, with its animal and flower images, strikes many as the most whimsical pueblo pottery.
Though other forms exist, San Ildefonso pueblo is best-known for three basic styles: one black, one red, and the other black-on-black, the technique developed and made famous by Maria Martinez and her husband Julian during the early twentieth century. A stylized feather motif is an image strongly associated with the San Ildefonso pueblo.
Most Hopi pottery follows the tradition begun by the great Nampeyo. The traditional look is immediately identifiable by its complex geometric designs, highly stylized birds and feathers, and distinctive color. Iron in the clay and outdoor firing produce variations of the distinctive yellowish hue of its slip.
Acoma pueblo is renowned for its striking white-slipped ware (black-and-white pottery of fine line design) but has also produced substantial amounts of black and orange designs. Also common to Acoma is polychrome pottery in fine line designs, animal motifs, and interlocking scrolls. Black-and-white designs at Acoma are often optical illusions that tease the eye of the beholder.
References:
Scott 2005 Specialized Catalogue of U.S. Stamps and Covers

Michael Hice, "Pueblo Pottery Beyond the Millennium", sfaol.com/art/hice.html. Accessed May 16, 2006.