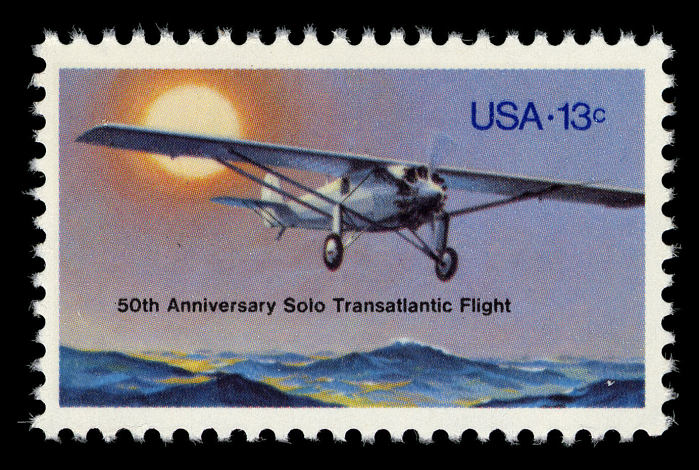 The Lindbergh Flight commemorative stamp (Scott 1710) was available on May 20, 1977, at Garden City, New Jersey. It was designed by Robert E. Cunningham.
The multicolored stamp was printed on the Bureau of Engraving and Printing seven-color Andreotti gravure press (601) as sheets of two hundred subjects, tagged, perforated 11, and distributed as panes of fifty. Mr. Zip, "MAIL EARLY IN THE DAY," electric eye markings, and six plate numbers, one in each color used to print the sheet, are printed in the selvage.
At 7:52 a.m., May 20, 1927, Charles Lindbergh gunned the engine of the "Spirit of St Louis" and aimed her down the dirt runway of Roosevelt Field, Long Island. Heavily laden with fuel, the plane bounced down the muddy field, gradually became airborne, and barely cleared the telephone wires at the field's edge. The crowd of five hundred thought they had witnessed a miracle.
Lindbergh crossed the coast of France on the evening of May 21, followed the Seine River to Paris, and touched down at Le Bourget Field at 10:22 p.m. The waiting crowd of 100,000 rushed the plane. He became an instant hero, 'The Lone Eagle'. New York City gave him the largest ticker tape parade ever witnessed. He was awarded Congressional Medal of Honor and the first-ever Distinguished Flying Cross by the U.S. government. His feat—the first person to fly solo non-stop across the Atlantic—electrified the nation and inspired interest in aviation.
References:
Scott 2005 Specialized Catalogue of U.S. Stamps and Covers

lindberghfoundation.org/history/calbio.html. Accessed May 16, 2006.