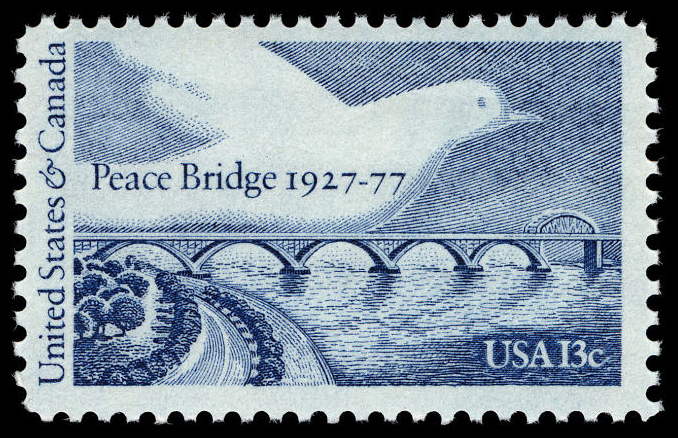 The 13-cent Peace Bridge commemorative stamp (Scott 1721) was first available on August 4, 1977, at Buffalo, New York. It honors the 50th anniversary of the Peace Bridge, which connects Buffalo and Port Erie, Ontario. Bernard Brussel-Smith designed the blue stamp using a woodcut.
The stamp was engraved by the Bureau of Engraving and Printing as sheets of two hundred subjects, tagged, perforated 11 x 10½, and distributed as panes of fifty. Mr. Zip, "MAIL EARLY IN THE DAY," electric eye markings, and a plate number in each corner are printed in the selvage.
Beginning in 1851 there were numerous attempts to construct a bridge over the Niagara River between the City of Buffalo, New York, and Fort Erie, Ontario. In 1922 and 1923, respectively, the state of New York and the government of Canada each incorporated a company under the name 'Buffalo and Fort Erie Public Bridge Company'. By an agreement dated June 13, 1925, the United States and Canada consolidated the two companies into a single international company known as 'The Buffalo and Fort Erie Public Bridge Company'. This company, formed to evaluate the feasibility and practicality of a bridge spanning the Niagara River, later oversaw the plans for procuring money to construct the bridge, oversee its construction, and eventually manage the bridge.
Completed and officially opened to traffic in June 1927, the Peace Bridge commemorated more than century of amicable relations between the United States and Canada.
References:
Scott 2005 Specialized Catalogue of U.S. Stamps and Covers

peacebridge.com/aboutus.php (accessed May 16, 2006)