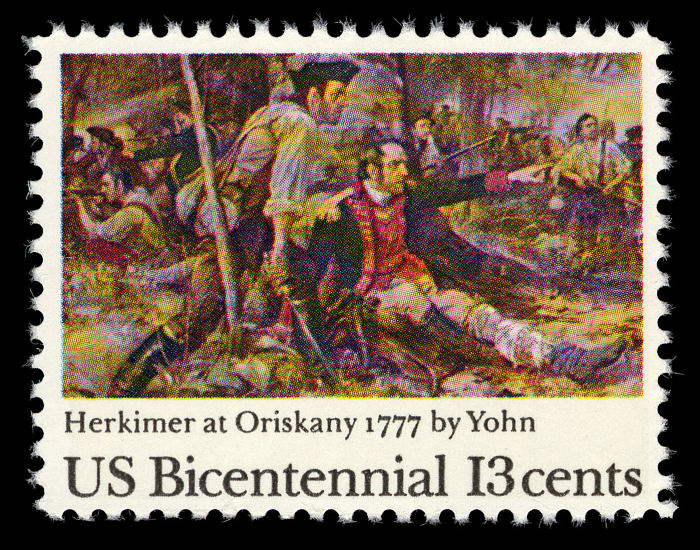 The 13-cent stamp (Scott 1722) commemorating the 200th anniversary of the bloody Battle of Oriskany was first available on August 6, 1977. Designer Bradley Thompson based the image on a Frederick Yohn painting, "Herkimer at Oriskany", held at the Public Library at Utica, New York.
The multicolored 13-cent issue (Scott 1728) was printed on the Bureau of Engraving and Printing seven-color Andreotti gravure press (601) as sheets of 160 subjects, tagged, perforated 11, and distributed as panes of forty (five across and eight down). Mr. Zip, "MAIL EARLY IN THE DAY," electric eye markings, and five plate numbers, one in each color used to print the sheet, are printed in the selvage.
During the Revolutionary campaign by the British-Tory-Hessian-Indian army under General Burgoyne, a force of 1,200 under British Colonel Barry St. Leger attempted to conquer the Mohawk Valley. Joining Burgoyne's troops descending from Canada, the force swept down the Hudson Valley to New York, planning to split the thirteen American colonies by capturing New York and isolating New England. The Battle of Oriskany was the decisive battle that prevented this strategy.
On August 6, 1777, General Herkimer and his command of eight hundred militia men marched up the narrow road through the forest, relieving the American garrison of Fort Stanwix. Herkimer tried to halt before reaching Oriskany, but his impatient militia would not wait, and the men rushed along the narrow road through the forest. Suddenly the American line was ambushed, the enemy closing in on all sides. General Herkimer was shot through the lower leg by a bullet that killed his horse.
This was one of the most terrific hand-to-hand battles recorded in the Revolution. Bayonets, clubbed guns, swords, pistols, tomahawks, war clubs, spears, and knives were used with murderous effect. During the six hours of conflict approximately 150 Americans were killed, 150 wounded, and fifty taken prisoner. The enemy's loss was probably three hundred killed and wounded and had much to do with the subsequent retreat from Fort Stanwix. The Senecas alone had forty warriors killed.
General Herkimer was taken to his home below Little Falls and died there ten days later, August 17, 1777.
References:
Scott 2005 Specialized Catalogue of U.S. Stamps and Covers

rootsweb.com/~nyfulton/Turnpike/Whitesboro.html (accessed May 16, 2006)