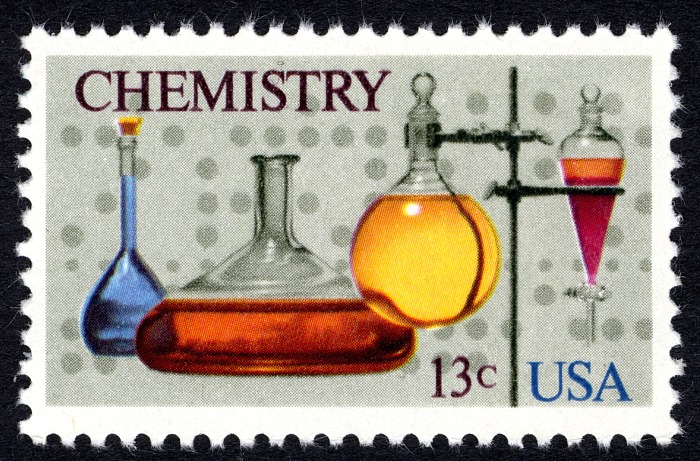 The 13-cent Chemistry stamp (Scott 1685) was issued on April 6, 1976, in conjunction with the centenary of the American Chemical Society (ACS). The design by Ken Davies depicts various flasks, a separatory funnel, and a computer tape.
The multicolored stamp was printed on the Bureau of Engraving and Printing seven-color Andreotti gravure press (601) as sheets of two hundred subjects, tagged, perforated 11, and distributed as panes of fifty. Mr. Zip, "MAIL EARLY IN THE DAY," electric eye markings, and six plate numbers, one in each color used to print the sheet, are printed in the selvage.
A group of chemists who had attended the Centennial of Chemistry in 1874 met in New York City early in 1876. They met at the home of Professor Charles F. Chandler of Columbia College. There they decided to form a local chemical society. Based on the enthusiastic response to the idea, they decided instead to form a national society. The organizing meeting of the ACS was held on Thursday evening, April 6, 1876, at 8 p.m. in the lecture room of the College of Pharmacy of the city of New York. The ACS, today headquartered in Washington, D.C., is a self-governed individual-membership organization with members at all degree levels and in all fields of chemistry. The organization provides a broad range of opportunities for peer interaction and career development, regardless of professional or scientific interests.
References:
Scott 2005 Specialized Catalogue of U.S. Stamps and Covers

American Chemical Society (chemistry.org/portal/a/c/s/1/acsdisplay.html?DOC=siteinfo\aboutacs.html. Accessed May 16, 2006, acswebapplications.acs.org/applications/125anniversary/timeline.cfm. Accessed May 16, 2006)