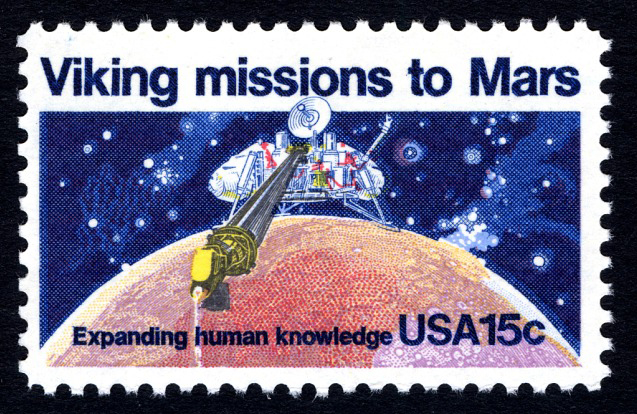 This 15-cent multicolored commemorative stamp depicts the Viking 1 lander, the landing component, collecting a soil sample on Mars. The US Postal Service released it at Hampton, Virginia, on July 20, 1978, the second anniversary of the Viking I lander's descent to the Mars surface.
The Viking missions initiated information gathering about Mars that continues to this day. The two "Missions to Mars" spacecraft, Viking I and Viking II, consisted of an orbiter and a landing component. Launched at different times (Viking I was launched in August 1975, and Viking II was launched a month later), each craft took approximately one year to secure itself in Mars's orbit. Identifying a suitable landing space on the planet was Viking I's first assignment. When completed, the lander separated from the orbiter to approach the surface.
While orbiting the planet, both spacecrafts documented the planet's geography and transmitted high resolution photographs to Earth. In addition, both crafts collected surface samples from diverse points on the planet, thus identifying iron-rich clay as the surface's key component. The Mission to Mars spacecraft also sought to answer haunting questions such as "Is there life on Mars?"
Though the Viking missions were originally intended to last for ninety days, each lasted for approximately six years. This longer duration gave scientists an opportunity to document change in the planet's surface and atmosphere. According to United States Space Objects Registry, as of 2008, the Viking I and II landers are still on Mars and the orbiters are apparently still in orbit.
The 15-cent denomination paid the new domestic rate for a first-class letter weighing less than half ounce, which had been raised from thirteen cents two months prior. It was only the second stamp issued to fulfill that rate.
Designed by Robert T. McCall, the stamp was printed at the Bureau of Engraving and Printing on the Giori presses in sheets of 200 stamps that were cut down into panes of fifty stamps for sale at post offices.
References:
"Missions to Mars." NASA. mars.jpl.nasa.gov/missions/past/viking.html (accessed September 3, 2008).

U.S. Space Objects Registry. 169.253.2.103/oes/search/index.cfm?fuseaction=search.display (accessed July 7, 2008).

Kloetzel, James E., ed. 2006 Specialized Catalogue of United States Stamps & Covers. 84th ed. Sidney.
Jill Piazza