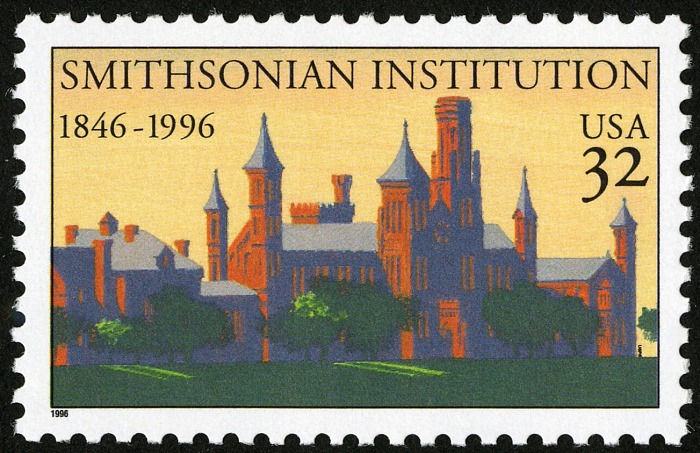 In 1996, the United States Postal Service celebrated the Smithsonian Institution's 150th anniversary with a stamp featuring the Smithsonian's administrative center, the "Castle." In addition, between 1996 and 1997, the Postal Service honored Ernest Just (1883-1941), a prominent African-American marine biologist; Jacqueline Cochran (1906-1980), a pioneering airplane pilot; James Dean (1931-1955), actor; Benjamin O. Davis, Sr. (1877-1970), the first African-American general in the United States Army; Vince Lombardi (1913-1970), famous American football coach; and Bugs Bunny, the madcap Disney character.
To celebrate the international stamp show Pacific '97, the Postal Service issued its first triangle-shaped stamps, featuring a sailing ship and a stagecoach. In addition, to celebrate the 150th anniversary of America's first postage stamps, souvenir sheets featuring Benjamin Franklin and George Washington were released at Pacific '97. The final commemorative postage stamp issued during this period featured the Mars Rover Sojourner in a single stamp souvenir sheet.
In the fields of sports, entertainment, and politics, Atlanta, Georgia, hosted the 1996 Summer Olympic Games; later that fall, President Bill Clinton withstood a general election challenge from Senator Bob Dole, becoming the first Democratic president elected to two full terms since Franklin Roosevelt; Clinton selected Madeline Albright as the first female secretary of state; and on December 17, 1997, the film "Titanic" opened to audiences across the United States. It became an international hit and won eleven Academy Awards.