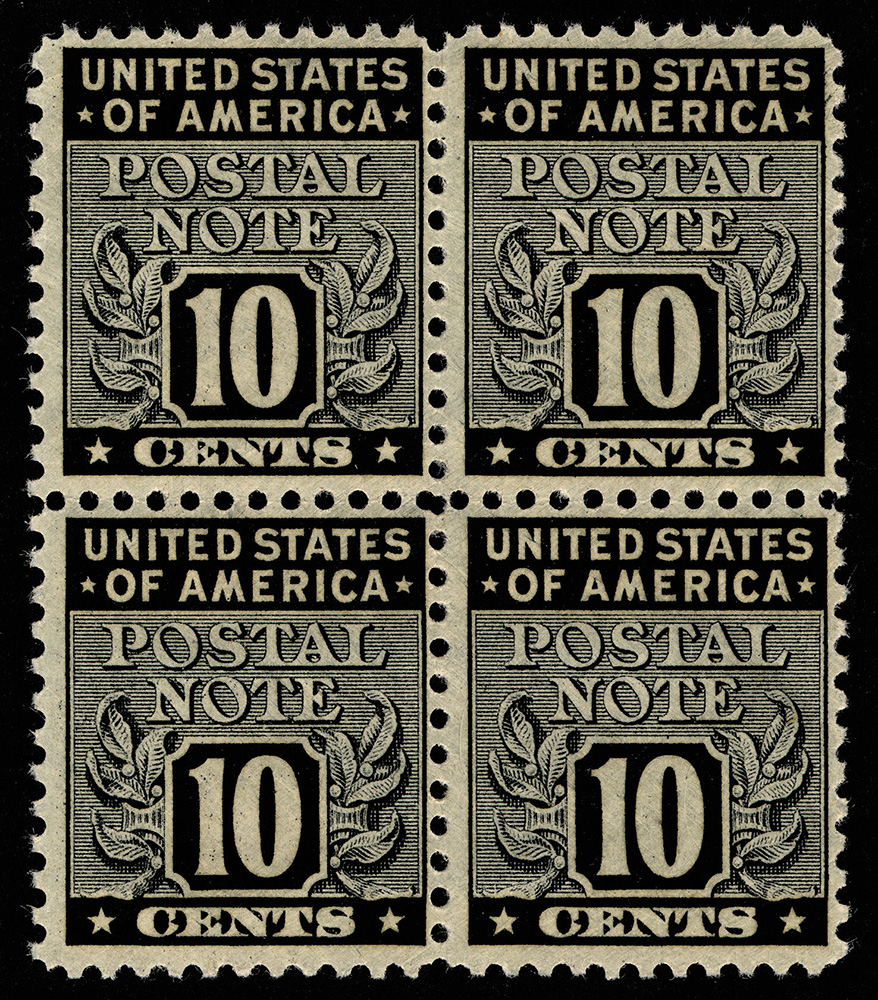 Unlike regular postage stamps, which are used to pay the rate for mail delivery, postal note stamps together with the postal note cards, were created to send small amounts of money up to ten dollars to anyone on the mainland of the United States. Similar in use to money orders, the stamps were created to send small amounts at a lower cost per transaction than money orders which were cost prohibitive for small values. The stamps were issued from February 1, 1945 until March 31, 1951.
Not only did postal notes prove to be more affordable than money orders for small value transactions, they resulted in less paperwork for postal clerks, as demanded by the Post Office. With postal notes the clerk had only to affix the stamps and cancel them, a normal postal handling. The paperwork was completed by the customer who filled out the form himself.
Each postal note contained three parts. On the left was the payee's coupon. The middle contained the paying office coupon upon which postal note stamps were affixed. This portion was left at the post office when the money was paid. On the right was the purchaser's receipt.
The stamps came in eighteen denominations and the postal notes were printed in eleven denominations. Up to two stamps per note could be combined to reach values between 1-cent and 10-dollars. Patrons could insure the note for a fee of 5-cents. At the top of each stamp are the words "United States of America" in white against a black background. The words "Postal Note" are printed in the novel font against a grey background. The value is also in white against a black background. Curled laurel branches are engraved around the value on both sides. The word "cent(s)" has been printed below.
The stamps were designed by William K. Schrage and engraved by C.A. Brooks. The words were engraved by Axel W. Christensen. The numbers were engraved by John S. Edmondson (1,3,4,10,30,50,70,80 and 90 cents), Edward H. Helmuth (7 and 20 cents) and Axel W. Christensen (2,5,6,8,9,40 and 60 cents). Printed by the American Banknote Company on a rotary press printer, the stamps have no watermarks and are perforated 11 x 10.5. The stamps were printed on two types of paper. The oldest paper was thick and gray in color and the newer paper was thin and white, the so-called melamine paper.
The number of stamps actually printed is unknown. The amount is estimated around 660 million stamps total, resulting in approximately 40 million of each value. The stamps were destroyed after use but a limited number were offered for sale to collectors in 1951.