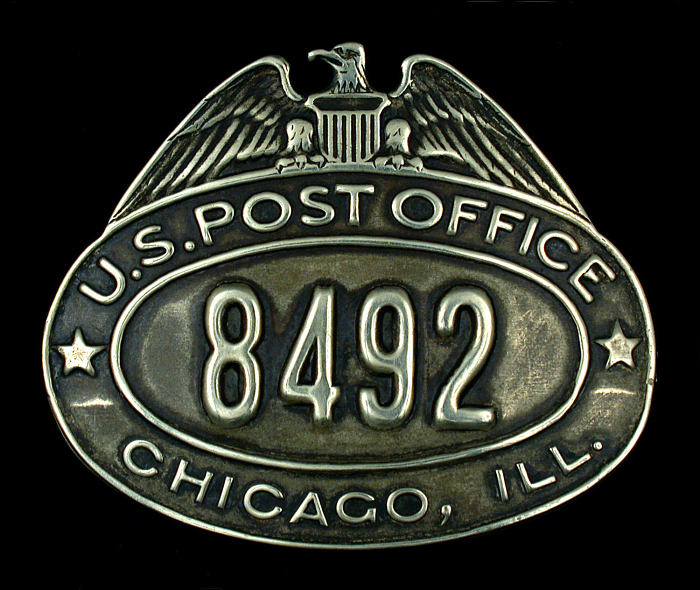 Los esfuerzos para estandarizar los uniformes de los carteros comenzaron poco después de la Guerra Civil. En 1868, decidido a acabar con el fraude en el sistema, el director general de correos, Alexander Randall, exigió que todos los carteros de la ciudad usaran uniformes regulados por el departamento, y en 1887 la insignia numerada se convirtió en parte oficial del atuendo del cartero de la ciudad. En ese momento, el departamento especificó que el cartero debía usar una insignia estilo corona en la gorra, casco o sombrero. Las regulaciones postales también estipulaban que los carteros debían comprar la insignia por su cuenta.
Para 1922, el Departamento de Correos adoptó una nueva insignia para estandarizar mejor el uniforme del transportista. Al igual que su predecesor, la insignia se adjuntó al frente del casco del transportista y fue comprada por el transportista. En otro guiño a la estandarización, las regulaciones postales especificaron que las nuevas insignias serían fabricadas únicamente por N.C. Walters and Sons. Cada insignia designaba la ciudad y el estado en el que trabajaba el transportista. Se sugirió además que las oficinas de correos de las ciudades y pueblos compraran las insignias al mismo tiempo, bajo la supervisión del jefe de correos, para asegurarse de que se indicaran los números de ruta correctos y se ordenara la cantidad correcta de insignias. A pesar de las nuevas regulaciones, muchos transportistas continuaron usando insignias que no cumplían con las especificaciones del Departamento de Correos de EE. UU., especialmente en ciudades más grandes como Nueva York y Boston.
Después de que el Departamento de la Oficina de Correos sancionara asignaciones uniformes en 1955, los carteros ya no necesitaban comprar sus propias insignias. Para reducir los gastos, el departamento modificó la insignia para que dijera simplemente "LETTER CARRIER" ("TRANSPORTADOR DE CARTAS") en lugar de la ciudad y el estado.
El Servicio Entrega Rural Gratis (en inglés: Rural Free Delivery Service o RFD), establecido oficialmente en 1902, nunca estipuló que los carteros usaran un uniforme o insignia para identificarse como empleados del Departamento de Correos. Sin embargo, muchos transportistas de RFD creían que llevar una insignia postal indicaba la importancia de su empleo y aportaba dignidad al trabajo. La demanda de insignias RFD incitó a varias empresas de joyería y uniformes a fabricar, publicitar y vender la insignia a carteros rurales para que la usaran en la gorra mientras estaban de servicio.
Referencias:
Mundy, James R.Postal Insignia.Easton, OH: James R. Mundy, 1992.

National Archives. Records of the Office of the Postmaster General 1773-1971.
Tim Scofield, Museo Postal Nacional