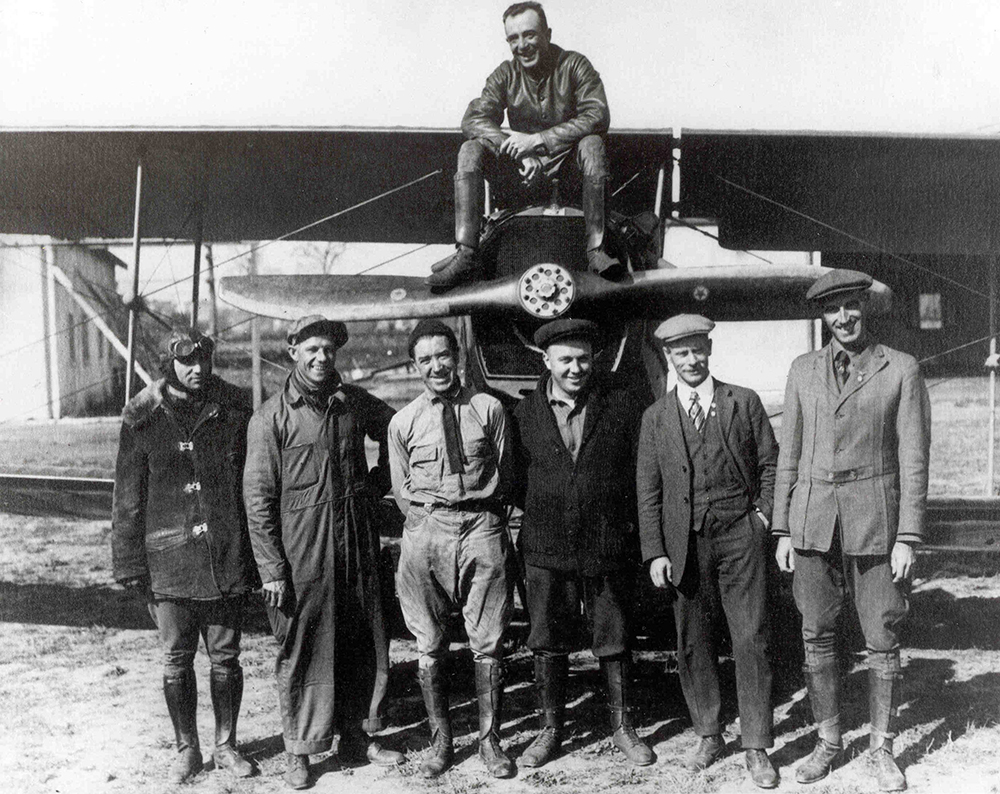 Gardner and Miller were two of Benjamin Lipsner's star pilots. When the time came for the Airmail Service to establish scheduled service between New York City and Chicago, Lipsner sent Gardner and Miller out to find the best aerial path between the cities. Always competitive, the two considered this task a "race to Chicago."
Eddie Gardner, who began flying the mail in 1918, had been nicknamed "Turkey Bird" by fellow pilots who thought his wobbly take-offs resembled a turkey trying to fly. Somewhat insulted, Gardner insisted on shortening the name to "Turk Bird," which he considered more acceptable. He had already logged over 1,400 hours of flight time and was working as a senior flight instructor for the Army when Gardner was asked to join the newly-formed Air Mail Service. Before taking to the air, Eddie Gardner had spent several years working as a chauffeur and mechanic in Chicago, Illinois. He had a love of auto racing and in 1910 he purchased a sporty National Motor Vehicle Company racing car from Benjamin Lipsner (who, as the first superintendent of the Air Mail Service, was the person who hired Gardner as an airmail pilot). 
Gardner survived countless airplane crashes, including a narrow escape in Cleveland, Ohio on September 15, 1918. Headed for Chicago with the mail, Gardner was unable to gain altitude on his takeoff and while trying to make an emergency landing in a vacant field near a cluster of homes, crashed his plane into two of the houses. No one, including Gardner, was injured in the accident.
Having survived his years in the airmail service, Eddie Gardner died in 1921 while stunt flying at a county fair.
Max Miller was born in Norway. As a kid, Max was interested in aeronautics, making kites, model airplanes, and gliders. He was in the army in the Phillipines, where he probably trained to be an aviator. Miller was the first pilot hired by Benjamin Lipsner for the Postal Service-operated Air Mail Service. Max was married to Daisy Thomas who worked in Lipsner and Otto Praeger's office.
In October 1918, Flying Magazine featured an article by Miller describing life as an airmail pilot, including this description of a foggy flight between New York and Chicago during the September pathfinding flights. 
"I climbed up through the fog again and went on over the mountains. I sailed on my compass course for an hour, 283 degrees, and I figured I was about 100 miles further on. Then I came down to see where I was and get my bearings, and the first thing I knew I hit the top of a tree. That sure gave me a good scare. I hustled back up again into the fog, determined to get plenty of altitude and keep on going as long as my gas held out." 
On September 1, 1920, Miller left Hazelhurst field for Cleveland at 5:30am in a Junkers-Larsen aircraft with mechanic Gustav Reierson and 600 pounds of mail. Two hours later, the plane was seen inexplicably only 20 miles away. It was flying low and the motor was cutting out and backfiring. Flames could be seen from the front of the plane and Reierson was tossing out mailbags. The flames engulfed the front of the plane, the aircraft nosed over and dove into the ground. The gas tanks exploded blowing the wings off. Both men were killed in the explosion.