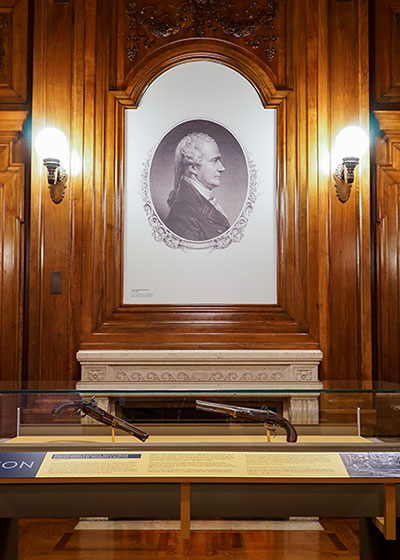 Dates: May 25, 2018 — March 3, 2019
Born out of wedlock on the small British Caribbean island of Nevis in 1755, Alexander Hamilton was deserted by his father at age eleven and raised by a luckless mother who died when he was thirteen. He went to St. Croix and clerked in the office of a New York trading company, where his employers recognized his intellect and raised money to send him to America for a college education. Shortly after his arrival the long-simmering tensions between Great Britain and her North American colonies erupted into open war. Hamilton committed to the revolution; he and America would sink or swim together.
In the two hundred and fifteen years since his untimely death in a duel with the vice president at age forty-nine, Hamilton has become an American icon. Stamps, money, movies, television miniseries, and now a Broadway musical commemorate his meteoric rise and his sweeping vision for America's future, aspects of which are still with us today.
Acknowledgements
DONORS
Douglas and Kathrin Mattox
Mystic Stamp Company
LENDERS
United States Postal Service, Postmaster General's Collection
JPMorgan Chase Corporate History Program
National Portrait Gallery, Smithsonian Institution
The National Numismatic Collection, National Museum of American History, Smithsonian Institution
Smithsonian Libraries
The Society of the Cincinnati
Wade E. Saadi
Prints and Photographs Division, Library of Congress