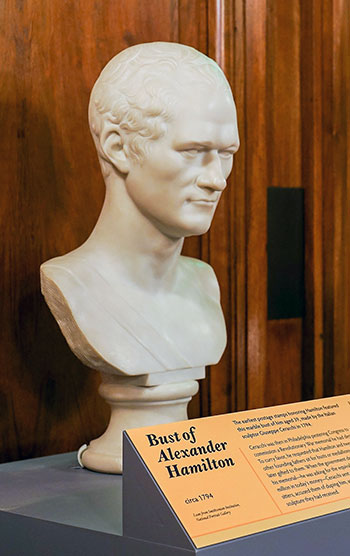 The earliest postage stamps honoring Hamilton featured this marble bust of him aged 39, made by the Italian sculptor Giuseppe Ceracchi in 1794.
Ceracchi was then in Philadelphia pestering Congress to commission a Revolutionary War memorial he had designed. To curry favor, he requested that Hamilton and twenty-six other founding fathers sit for busts or medallions that he later gifted to them. When the government declined to fund his memorial—he was asking for the equivalent of about $8 million in today's money—Ceracchi sent peevish letters to his sitters, accused them of duping him, and enclosed bills for the sculptures they had received. Hamilton sent $620, which he noted in his cash book was paid "through delicacy…as a favour to him."
Hamilton's widow, Elizabeth Schuyler Hamilton, displayed the bust in the parlor of her Washington, D.C. home from 1848-1854. One visitor recalled, "The old lady always paused before it … and, leaning on her cane, gazed and gazed as if she could never be satisfied."
Multiple copies were made from the original bust. This one belonged to Levi Woodbury, one of Hamilton's successors as secretary of the treasury. It passed to Woodbury's son-in-law, Montgomery Blair, who was postmaster general from 1861-1864, and was purchased by the National Portrait Gallery in 1966.
Loan from National Portrait Gallery, Smithsonian Institution
---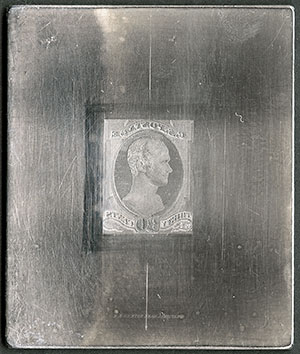 This is the original steel die for the 30¢ Hamilton stamp featuring Giuseppe Ceracchi's bust. It was engraved at the National Bank Note Company in New York in 1870, and used by successor companies Continental Bank Note Company and American Bank Note Company to print the stamp for the next eighteen years.
The stamp was designed by Butler Packard and engraved by Joseph Prosper Ourdan (vignette), Douglas S. Robinson (frame) and Donald S. Ronaldson (lettering).
Loan from United States Postal Service, Postmaster General's Collection
---
30¢ Hamilton, 1870, 1888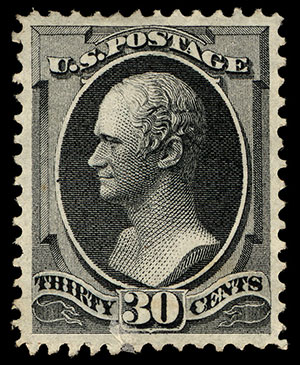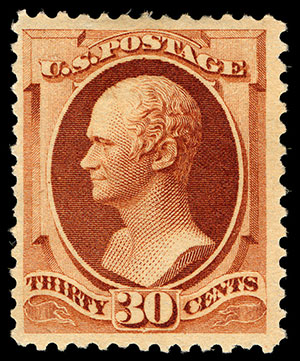 The Ceracchi bust of Hamilton appeared on the 30¢ stamp from 1870 until 1890. Hamilton's portrait did not appear on postage again until 1956.
---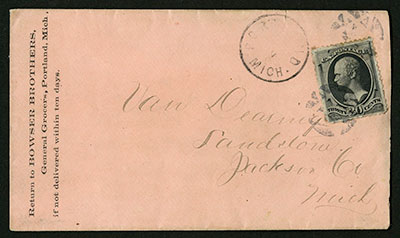 The 30¢ Hamilton was issued primarily for postage rates to Asia and South America. There was no reason for it to be on this ordinary domestic letter. Someone removed the original 3¢ stamp and substituted a 30¢ Hamilton to try and create a more valuable piece.
---
30¢ Executive Department Plate Proofs on Cardboard, 1873
From 1873 to 1884, special stamps known as "officials" were issued for use by executive departments of the Federal government. The Ceracchi bust of Hamilton appeared on the 30¢ officials.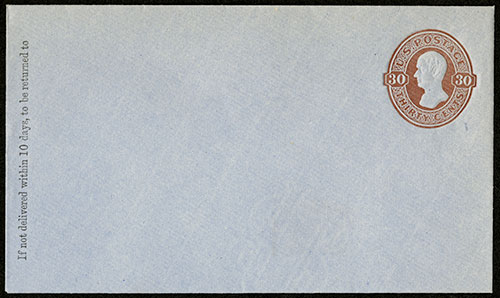 ---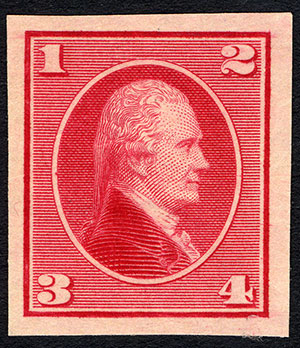 This Hamilton head stamp design was created to test the BEP's new Stickney press, but was never issued to the public.
---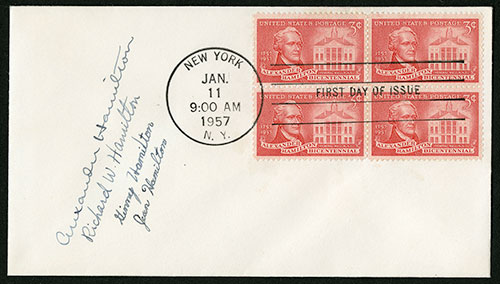 Hamilton's most recent U.S. postage stamp was issued January 11, 1957 for his two hundredth birthday (most scholars now believe he was born in 1755). Two generations of living descendants attended the ceremony at New York's Federal Hall and signed this first day cover. Alexander and Richard Hamilton were great-great grandsons through Hamilton's fifth child, John Church Hamilton. Ginny and Jean Hamilton were Richard's twin daughters.
---
Revenue Stamps
Tax Proofs, 1871, 1879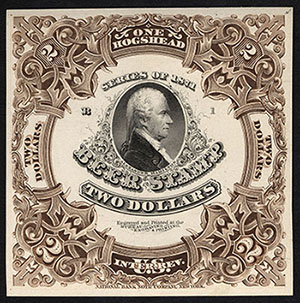 As treasury secretary, Hamilton introduced "sin taxes" on tea, coffee, beer, wine, and distilled spirits. When farmers in western Pennsylvania rebelled against the whisky tax in 1794, Hamilton rode to Pittsburgh at the head of an army to enforce the tax and disperse the rebels. It is somewhat fitting, then, that his profile appears on these 1870s tax stamps for beer and snuff.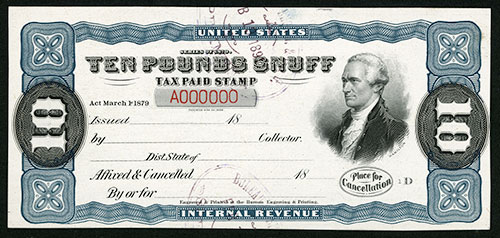 ---
Documentary Revenue Stamps, 1917, 1940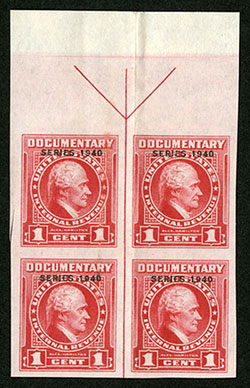 Documentary revenue stamps were used on deeds, contracts and promissory notes.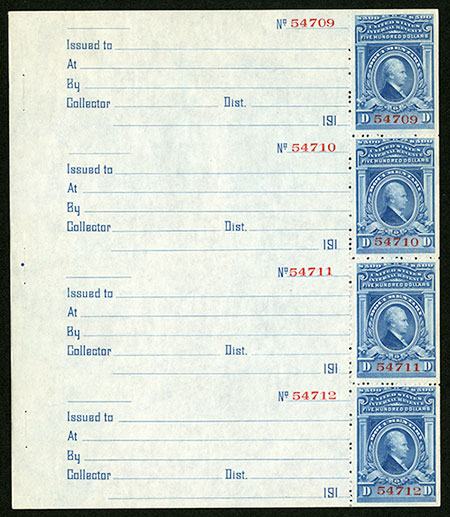 ---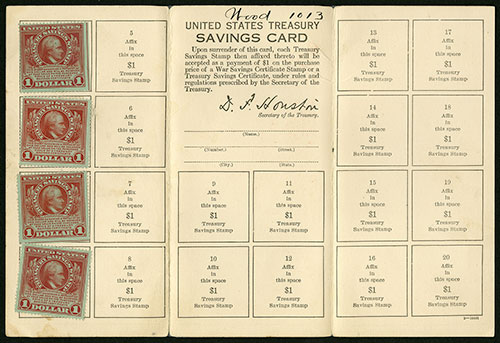 A full booklet of 20 stamps could be redeemed for an interest-bearing Treasury savings certificate.
---
Silver Taxes, 1934, 1941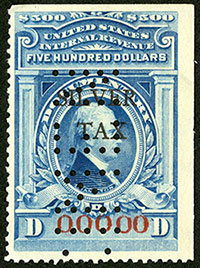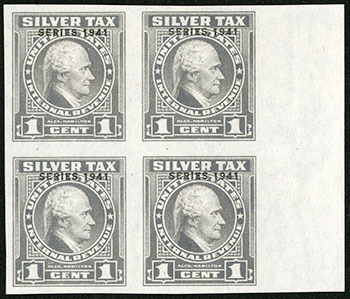 Beginning in 1934 a 50% tax was applied to the sale or transfer of silver bullion, payable with these revenue stamps.
---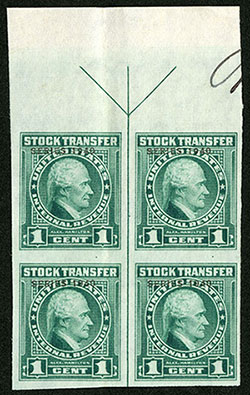 The sale, delivery or transfer of stocks was subject to federal taxes payable with these revenue stamps.
---
Banknotes
Early Bills, United States, 1862, 1878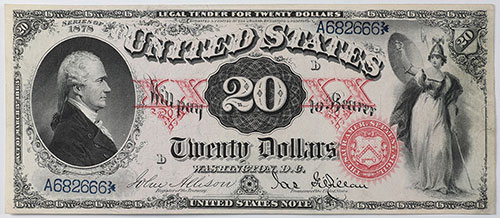 These notes were among the earliest U.S. paper money to picture Hamilton.
Smithsonian's National Museum of American History
---
The highest denomination U.S. bill ever to feature Hamilton's portrait, this gold certificate was intended for bank-to-bank transactions.
Smithsonian's National Museum of American History
---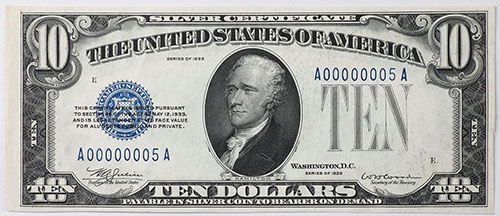 The ancestor of today's $10 bill, the small-size federal reserve note featuring Hamilton's portrait first appeared in 1928.
Smithsonian's National Museum of American History
---
Burr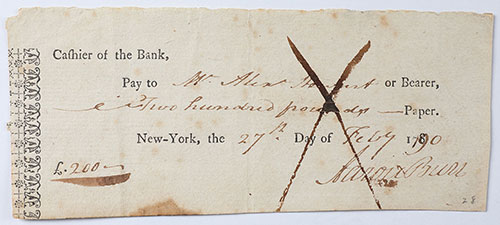 This check was drawn on Burr's account at Hamilton's Bank of New York, which had a de facto banking monopoly in the city until Burr founded the Manhattan Company bank. Two hundred dollars in 1790 is the equivalent of about $5,000 in today's money.
Smithsonian's National Museum of American History
---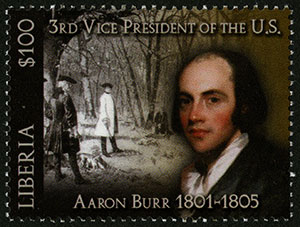 One of the world's very few postage stamps picturing the disgraced former vice president has a face value of 100 Liberian dollars—the equivalent of about 75¢.