Pitney Bowes

Driving commerce forward for more than 95 years.
"Welcome to the World of Pitney Bowes"
[music]
Narrator:
In the connected, borderless, and everchanging world of commerce today, complexity is a constant, data abounds. Error-free is the expectation. And physical and digital transactions work in concert to create real business impact. As this world of commerce has evolved, Pitney Bowes has evolved too. Today, we're a global technology company powering billions of digital and physical transactions for more than 1.5 million small businesses, and for 95% of Fortune 500. How did we get from there to here? By understanding the value in getting every transaction exactly right. In everything we do, we're driven to deliver accuracy and precision to help our clients create meaningful impact, identifying patterns within a client's data to help them target customers in the best way possible, providing the most comprehensive and accurate location data so our clients can make smarter business decisions, helping clients deliver the right messages, through the right channels, at the right time, making sure the right bank statement, invoice, or credit card bill ends up in the right envelope and the right mailbox, millions of times a day, and studying every detail of customs processes around the world so sending a parcel from Los Angeles to Lisbon comes with accurate costs and no surprises.
Welcome to the connected and borderless world of commerce where getting it precisely right creates an exponential impact that moves business forward.
Welcome to the world of Piney Bowes.
At Pitney Bowes we deliver innovations that help clients navigate the complex and always evolving world of commerce–from helping them use data to market to the best customers, to efficiently enabling the sending of parcels and packages, to securing payments through statements and invoices. In everything we do, we deliver accuracy and precision to drive meaningful impact.
| | |
| --- | --- |
| | 1920: The birth of an industry. Arthur Pitney, the inventor of the first commercially available postage meter, joins forces with Walter Bowes to form Pitney Bowes—and changed the way companies of all sizes do business. |
| | 1930: Stamp of product security. The first Pitney Bowes logo symbolizes the security of the metered mail system, serving as a mark of product excellence and pledge of postal service. |
| | 1949: A desktop mail station. The first mass-market meter designed to sit on a desk launches. |
| | 1950: "Make the mailer's life easier." The brand power of the name Pitney Bowes is built through sales, service and advertising in national magazines. The theme is constant: "Metered mail makes the mailer's life easier." |
| | 1957: Keeping pace with business transactions. Pitney Bowes introduces the first automatic mail-sorting machine. |
| | 1961: Increasing productivity for high-volume clients. Pitney Bowes creates the mail inserter to boost productivity, drive precision and decrease costs in large volume mailing. |
| | 1968: Bar codes for retail. Pitney Bowes produces the first bar code equipment for retail use. |
| | 1971: Crossroads of communication. Pitney Bowes adopts a new logo, symbolizing the intersection of paper-based and electronic communication. |
| | 1978: Transferring funds electronically. Postage by Phone® is introduced by Pitney Bowes, eliminating the need for businesses to make trips to the post office. |
| | 1986: Moving beyond mail. Fax machines and scales with microprocessors are added to the Pitney Bowes product line. |
| | 1992: Integrated processing. A new age of integrated mail processing begins with the launch of the Paragon® system, which automatically calculates and affixes postage based on weight and size. |
| | 1996: Empowering small businesses to grow. Line of credit for postage allows clients to "mail now and pay later" for postage—ultimately improving their cash flow. |
| | 1998: Digital document delivery. The launch of D3 software enables message management via hard copy, web, email and fax. |
| | 2007: Location. Location. Location. MapInfo, a provider of location intelligence solutions, is acquired by Pitney Bowes in order to solidify its offering in the software space. |
| | 2009: Growing in software. Pitney Bowes expands its software footprint through a variety of software acquisitions including Group 1 Software and gains recognition as one of the world's largest software companies, according to Software Magazine. |
| | 2012: Going global. Pitney Bowes simplifies the complexity of overseas shipping for ecommerce clients. |
| | 2014: Social gets smarter. Major social media platforms use Pitney Bowes Location Intelligence technology to enable more contextually relevant experiences. |
| | 2015: Rippling impact. Pitney Bowes launches a new brand, expressing how the company delivers accuracy and precision across the connected and borderless world of commerce to help clients create meaningful impact. |
The Founders and History of The Model M Postage Meter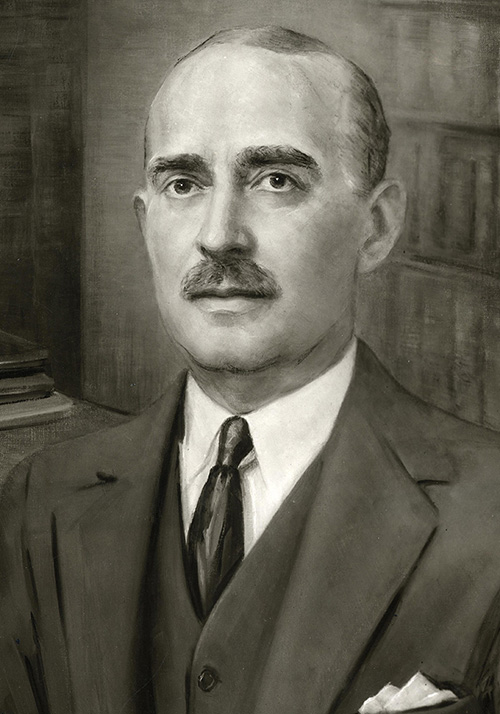 Arthur Pitney created his first mailing system in 1901 while working as a wallpaper store clerk. His first postage machine consisted of a manual crank, chain action, printing die, counter, and lockout device. After being granted a patent in 1902, he shortly after formed the Pitney Postal Machine Company in Chicago, Illinois. This became the American Postage Meter Company in 1912.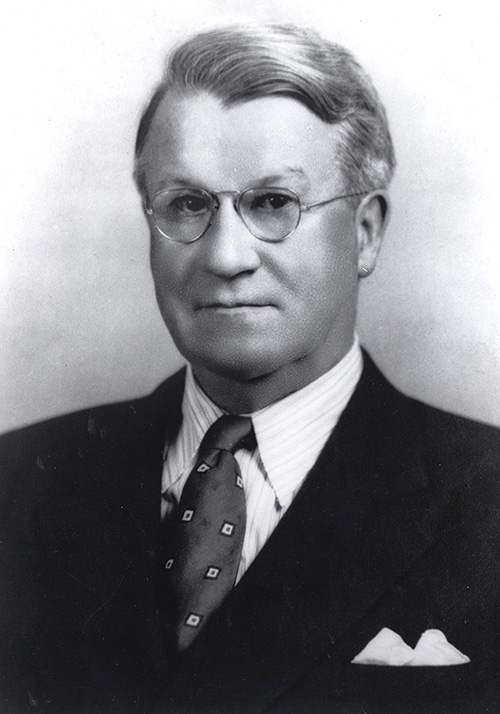 Walter Bowes headed the Universal Stamping Machine Company during the early 20th century, which manufactured post office canceling machines. He achieved prominence during this time for promoting the permit printing of mail, and eventually moved his operation to Stamford, Connecticut in 1917.
By 1920, Pitney and Bowes met in Stamford and formed the Pitney Bowes Postage Meter Company, which focused on developing and promoting the postage meter. Later that year, the company built an improved version of the postage meter that separated the registering mechanism from the printing die. This version, known as The Model M Postage Meter, was authorized by the Post Office on September 1, 1920, and put into commercial use later that year.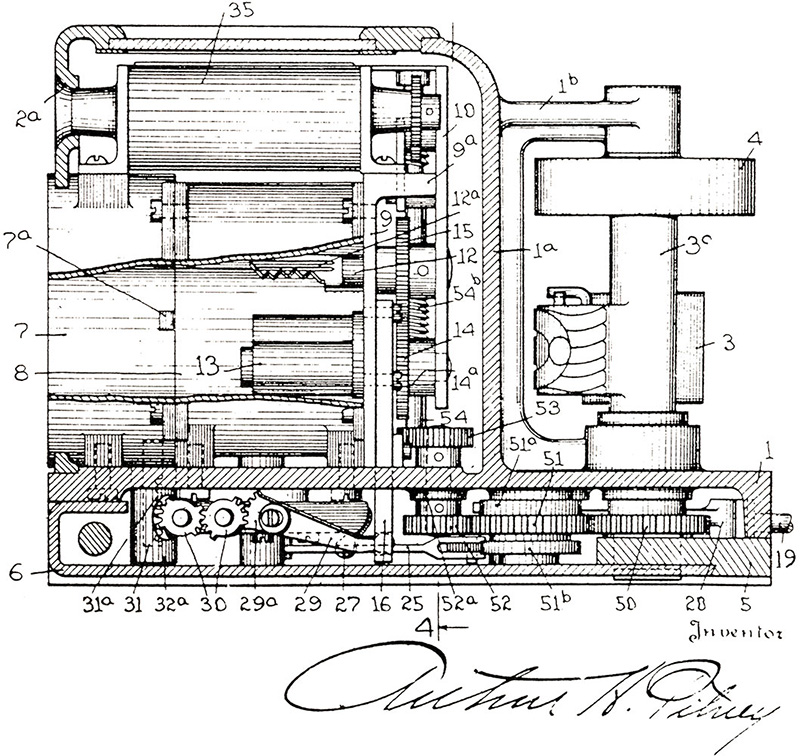 Drawing of the Model M postage meter
SOURCE
The American Society of Mechanical Engineers, Pitney Bowes Model M Postage Meter, 1920,
An International Historic Mechanical Engineering Landmark, September 1986.
asme.org/getmedia/960c9491-5a74-44db-b8ca-eac8d95985ba/114-Pitney-Bowes-Model-M-Postage-Meter.aspx
(Accessed August 9, 2016)