What is ShippingEasy?
ShippingEasy is a cloud-based, multi-carrier shipping solution that offers direct integrations with the largest marketplaces and shopping platforms to simplify shipping for eCommerce sellers. Our application provides merchants of all sizes with helpful tools to easily manage their shipping process from start to finish. Wherever an order is placed online, it automatically syncs into ShippingEasy. The merchant can log into their account, view new orders, and quickly generate shipping labels. Once the label is printed, the tracking information is emailed to the buyer and updated to the marketplace or selling platform in real time.
ShippingEasy simplifies the online seller's shipping process saving them time – and money. Through our relationship with USPS, we provide sellers access to all USPS package services. Coupled with integrations to UPS, FedEx, and DHL Express, shippers can generate shipping labels for all of their orders in one place.
We don't stop there! ShippingEasy is innovative. We continuously seek new ways for our customers to save time on shipping. For example, AutoShip, a proprietary algorithm that predicts future shipping decisions based on historical patterns, completely automates shipping and saves up to 80% of the time required to process.
We understand that shipping may not be the most exciting part of selling online, but we make it easy!
When was ShippingEasy founded?
ShippingEasy was founded in Sydney, Australia in November of 2011. The goal was to simplify shipping and fulfillment by lowering postage costs and streamlining processes for ecommerce merchants of any size. It quickly became apparent that the booming eCommerce industry in America would be a better market for the targeted solution. Less than one year after its inception, Katie May, it's newly appointed CEO moved the business to Austin, Texas in September 2012.


From left to right: CEO Katie May, CTO/Head of Product Barry Cox, SVP/Head of Business Development Eric Youngstrom
Katie quickly moved to find experienced, entrepreneurial talent in Austin to round out the leadership team. Before the end of 2012, Barry Cox, a serial entrepreneur, gifted engineer and technology leader and Eric Youngstrom, a proven strategist and business growth and development executive rounded out the executive team.
What are some of the most interesting parts of the ShippingEasy operation?
ShippingEasy is based on strict prejudices: listen to the customer, build an insanely good and easy to use product, compliment it with world class service, and innovate like crazy.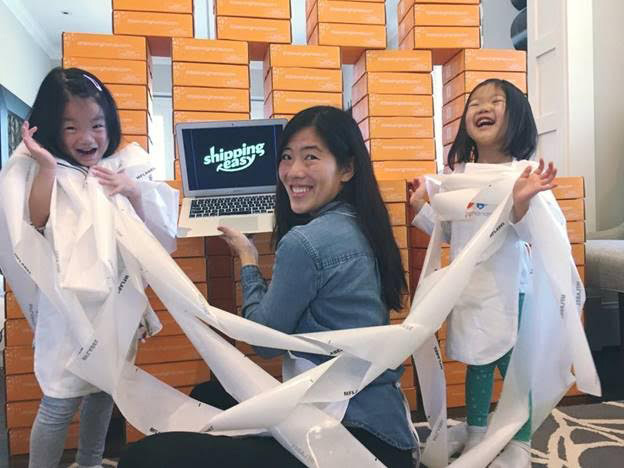 Shipping can be easy...and fun!
Shipping is a time-sensitive task fraught with complexity. With so many options and decisions (carriers, services, pricing, packaging, picking, packing, the list goes on), shippers are starved for quick answers and assistance. We realized the importance of offering a variety of accessible support options early on. Whether a customer prefers phone, chat, or email support, they will always get a quick response from a live person. Should a customer prefer to self-help, we've created thousands of easy-to-read steb-by-step articles in our Support Center. We invest in genuine relationships with our customers, and these support options enable continuous communication and learnings. Outstanding service is paramount at ShippingEasy.
Continuous communication is essential not only for customer satisfaction, but to ensure that the evolution of our product aligns with customer need. This includes answering questions about how existing features work while isolating unmet needs and defining future product features and enhancements. Our focus on the customer is legendary and leads to breakthrough features and groundbreaking process improvements.
We deploy new features and enhancements on a weekly basis. This discipline delivers cutting edge features and real time responsiveness to customer requests and feedback.
How does ShippingEasy impact American consumers and businesses?
Online shopping is now ubiquitous. This impacts consumers, retailers and those responsible for delivering the goods – like USPS. Shipping is core to the transaction and can be a significant part of the cost. Affordable shipping options matter to the merchant and the online consumer. In fact, high shipping costs trigger more cart abandonment than any other factor. ShippingEasy aims to solve this pain point by providing access to the lowest USPS postage rates. In most cases, ShippingEasy customers will extend these savings directly to the online shopper (eg American consumers). In some cases, our customers, the online seller, will redirect the money they would have spent on more expensive shipping to marketing efforts or other growth endeavors.
ShippingEasy has helped over 10K American businesses improve their shipping processes. We've thoroughly enjoyed watching many of our customers grow from new, small businesses to massive, profitable online merchants. We've been there along the way to ease the growing pains with simple tools that can be adjusted as a more sophisticated shipping process is required.

We can help you establish processes and scale!
One merchant who has grown up with ShippingEasy is a well-known specialty foods and sweets website based in the northeast. When they first started using ShippingEasy in 2014, they were a small operation; and like many new businesses, shipping was all consuming. In the early days, it required two full-time employees. Through time-saving features such as AutoShip and proactive training and support from ShippingEasy, they continuously improved their processes and prepared for growth. Despite a steady increase in volume in the last 18 months, they have reduced their shipping to just 30-minutes daily. The time-savings coupled with the competitive postage rates offered by ShippingEasy has allowed them to expand their business - they've even started selling internationally!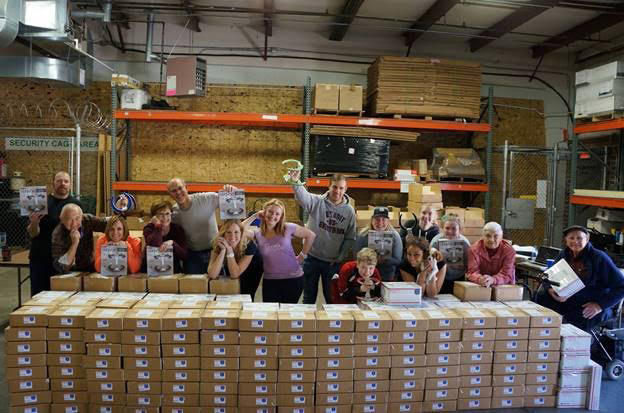 Use time-saving tools to finish fulfilment faster!
How does ShippingEasy work with the USPS?
ShippingEasy partners with USPS to bring a great shipping experience coupled with competitive rates to the eCommerce segment.  We offer exceptional service and deep expertise on relevant USPS services and an Account advocacy program. This program connects qualifying eCommerce merchants with a USPS Account Manager in their area. We do our best to stay 100% across every piece of the shipping matrix in order to tailor each shipper's chosen carrier services to the least expensive, most efficient selections.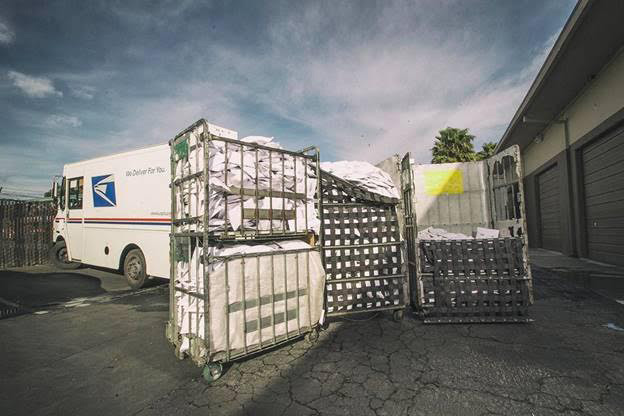 Merchants can set up daily pick-ups with the USPS directly from ShippingEasy.
In addition, ShippingEasy produces and distributes professional guides on eCommerce shipping and rates. These help merchants make informed decisions and can be used by USPS Account Managers to simplify shipping for online sellers. One example is "The eCommerce Seller's Guide to 2016 Rate Changes". The guide distilled the 2016 rate changes across all major carriers into a concise yet robust, easy-to-read eBook intended to simplify the complexities introduced in January. This helped eCommerce sellers to understand the new rates and make educated modifications to their process. Further, the USPS could quickly reference the guide to see their rates next to the other carriers and help their customers find the cheapest and/or fastest shipping options at a glance.
Where is ShippingEasy headed?
ShippingEasy will continue to make shipping and fulfillment easy for online sellers. This means more options, more tools and more problems solved. Extending our "easy to use" mindset to other painful areas like inventory management will enable greater efficiencies for our merchants. In addition, we recognize our unique ability to expand a merchant's sales to more marketplaces. We will enable both sides of the online transactions – before and after – in the coming quarters. ShippingEasy is on the side of the seller and will continue to make it easier to grow their business.
ShippingEasy feels privileged to partner with USPS and will continue to demonstrate our ability to add value to their business and grow their eCommerce volume. A huge thank you to USPS for the vote of confidence in our early days. We're incredibly grateful.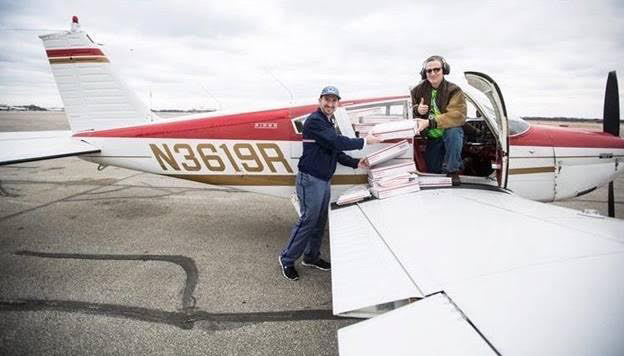 ShippingEasy continues help customers ship more, no matter the destination.