Littleton Coin Company

Stamps started it all – Littleton Coin Company
Over 70 years of Building Collections via the Mail
[music]
Tour Guide:
So when we first buy our money this is where it comes into.
And they check it all, they grade it, they look under the lights to see what the coins look like.
And then they put it in inventory so we can pack it up and ship it to our customers.
Marianne Adams, Proof Reader, Marketing:
Mr. Sundman built this company on family values and the trust of a perfect stranger.
And that's the way it was when I came here to work and that's the way it is today.
David Sundman, President, Littleton Coin Co.:
This $500 bill, when this was issued in 1929, that was enough money, you could buy a house.
My mother and father started the business in October of 1945.
My father had just gotten out of the service.
He was in Italy in World War II.
My mother was in charge while he was overseas to find a new place to start their stamp business.
My father had started in Connecticut but they knew they had to come north to be in a place where it is more economic to do business.
And, my mother picked Littleton.
So we were selling both stamps and coins.
So we sold our stamp portion of the business to my brother's business.
And we decided to concentrate on coins and banknotes.
Butch Caswell, Coin Buyer and Trainer:
What we do is, obviously we buy coins and sell coins.
And this happens to be from a collection.
These are Morgan Dollars.
This is one of the favorites for people because they are a large coin.
So we have to look at the dates and the grades.
So we do have a full department that grades all the coins out, and price it all out, and go to retail to the customers.
Customer Service Staff:
You're purchasing the 2014 National Park quarters.
David:
We have many, many families here, several generations of staff, people who have been with us, you know 30, 40 years.
Marianne:
When I started in '72, I'm guessing, we had between 80 and less than 100 people that worked for Mr. Sundman.
David:
This is our 70th year in business and we employ 320 people.
And it's been an important business to Littleton and to the northern part of the state.
Dot Bean and Stephanie Westover, Staff:
I started at the coin company in 1990 shortly after I got out of college.
And then my mother joined me.
How many years later?
I've been here 18 years.
I love it.
It's a good job.
It's fun being able to hold, you know, these coins from ancient times or paper money that's worth $10,000.
It's exciting.
Chris Willey, Staff:
What I have here is a group of Morgan's that I graded out.
Grading has to do with the amount of wear on the coin.
And the less wear the more valuable it is.
We're looking in the leaf area on the head.
Very goods are completely worn.
Fines have the outline of the leaf.
Very fines have stem in the leaf
Extremely fines, all but the high points.
About, uncirculated, have like almost the full luster.
David:
We're taking people that know nothing about coins or banknotes and really they have the opportunity to learn.
We have a staff that is traveling all over the US buying coins and banknotes and they've, they're really self-taught.
Tour Guide:
We're coming down to the fun part down here.
David:
When we built this building 17 years ago we decided to put a small shop in.
But generally what people can do is they can take a tour.
I think it's good when people get here
to actually be able to see a little bit of what we sell.
And some of some things that we don't actually offer but they're very historic.
It's like a small museum.
A number of years ago I bought a reverse quarter dye from Carson City Mint.
And it turned out it was actually used in 1870, then later I said, gee I wonder if I could find a coin that was struck by that dye.
And I was lucky.
There are only about 12 known.
I was able to acquire one.
We are in the business of putting history you can hold in your hands in our customers hands.
We are sending our inventory out in the mail every day.
David Wilson, Staff:
We ship about, between 5,000 and 7,000 packages a day.
Kim, Staff:
Littleton Coin Company, this is Kim.
It's great to be able to talk to customers, with their collecting needs.
To hear some of the things that they like to collect, why they're clicking them.
Butch:
We buy tons of bulk coins, Indians, V nickles, buffalo's, Merc dimes, Washington quarters, Walkers.
Our customers are all different and we try to tailor our service to their individual needs.
05:06
And the fun is holding the coin in your hand.
That's, you know, it's palpable.
It's like the Kodak moment.
Tour Guide:
Take your magnifier and zoom right in and see if you can see somebody in there.
Do you know that is?
Abraham Lincoln.
Yes, it's the Lincoln Memorial.
David:
I think most collectors start when they are kids.
And I started out collecting pennies and nickels.
Some people become very advanced.
They're collecting all the different US coins series from half cents all the way up through $20 gold pieces.
You know the whole history of the country is really laid out for you in terms of money.
This really dates back to just after the Civil War.
This is Amoskeag National Bank.
It's a $1 bill signed by Moody Currier, later Governor of New Hampshire and famous now because of his donation of the Currier Art Gallery.
Tour Guide:
This particular stone would buy you 800 coconuts or one small pig.
That's what this was worth.
Can you believe that?
How would you like to go to school clothes shopping with something like that, huh?
Marianne:
I think Mr. Sundman would be very proud to see that we've kept his dream alive like we have.
[music]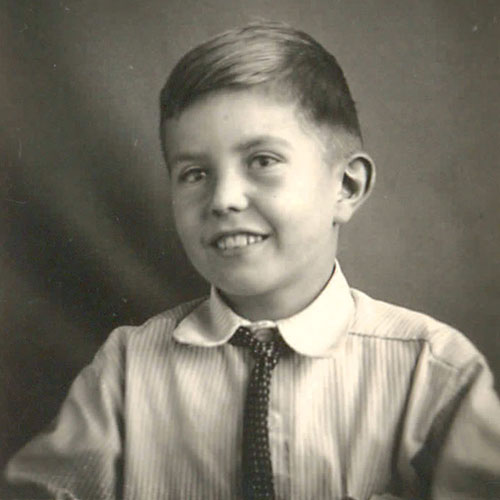 For over 70 years, Littleton Coin Company has brought the excitement of collecting by sending stamps, coins and paper money to customers through the mail. Since 1945, from our Littleton, New Hampshire headquarters, we've provided customers with friendly, knowledgeable and dependable service. Today, thanks to the U.S. Postal Service, thousands of collectors across the country have shopped at Littleton Coin to begin collections, add to existing ones or to find unusual items to share with their friends and families. But Littleton's history of bringing the "coin store to a customer's door" via packages in the mail, goes back even earlier than that.
It all began in 1927, when rain forced 12-year-old Maynard Sundman and his friend inside. Billy showed him his stamp collection. From then on, Maynard was hooked. Although he received stamps through the mail from businesses far away, he spent hours studying ads offered by various companies. The same year the stock market crashed in 1929, setting off the Great Depression, Maynard turned 14. That year he noticed an ad for a free H.E. Harris stamp catalog and sent away for it. Inside he found an article: The Future of the Stamp Business. He had been selling penny stamps to other student collectors for a few years, and that article fueled the dream of starting his own business.
1935-41 The Maynard Sundman Stamp Company
After graduating from high school in the summer of 1935, he opened the Maynard Sundman Stamp Company with a $400 order he made from H.E. Harris. (Later Harris would serve as his mentor, teaching him key lessons about the mail order business.) Working from a table in his parents' kitchen in Bristol, CT, he sent stamps on approval through the mail to customers across the country. With stamps on approval, he placed his trust in his customers, believing that if they saw the stamps to "approve" before they paid for them, they would be happier with their purchase in the long run. Maynard's business blossomed that first year, even during the depression, and he hired four neighbors to help fill orders.
The Army Calls
About a year later, he met his future wife, Fannie Kasper, and they married in April 1941. WWII was in the news and the expected draft letter arrived, which eventually sent him overseas. With that, Maynard put his business on hold while he was away.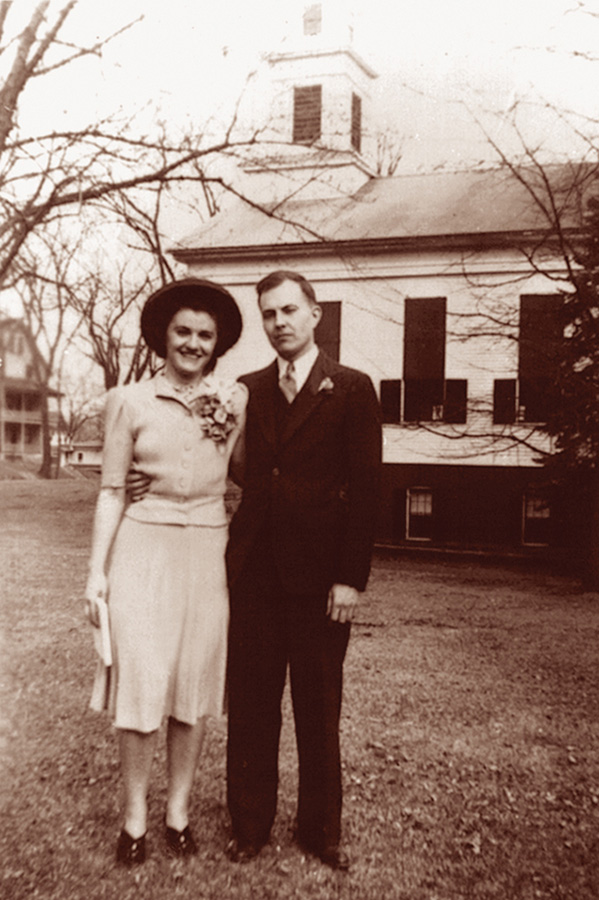 Littleton Coin founders Maynard and Fannie Sundman as newlyweds.
Although he served with the 5th Army in Italy, he still dreamed about his future business, and asked Fannie to scout for locations in northern New England to reopen it after the war ended. In 1944, she visited towns in New Hampshire, looking for spots to relocate the company and raise a family. Littleton's friendly people and large post office won her over.
Fannie Kasper Sundman Interview
Fannie: And I picked the town, Littleton, for after he came back from active service, because it was addressed on the flyer and I knew all of the salesmen. And I described his business and I said, "Where in New England would you, you know, start a mail order business?" And they all told me about Littleton, New Hampshire. First they said, ah…
Maynard: Well they said two places, Littleton or Keene.
Kasper: Keene. And Keene, I knew, from having gone there to church camp. And it made me think it was too citified for me because I came from Perryville, Connecticut, a very small village. And so I thought I'd look at Littleton. And I stayed at a hotel across the street from the post office in Littleton. And I got in at night, in whatever way you get there. And when I opened that hotel door and saw that post office… I was also a Sunday school teacher and had a lot of faith in god that things were going to work out right for me. And I thought, "god sent me here, and this is the place." It was so elaborate, so beautiful. And I thought, oh, this is the town. And you know that I stayed there two weeks. And I couldn't wait until Maynard got back. Where were you?
Maynard: And I had just arrived then.
Fannie: And, you know, he was just as thrilled about it as I was. And so, there we are. Still there.

The stately post office in downtown was one of the reasons the company was located in Littleton. A large post office was needed to handle the volume of mail shipped daily from the company. Mail order was and is Littleton's primary way it connects with its customers.

Maynard and Fannie Sundman prior to Maynard heading overseas during the war years.
"Thank you for all you are doing to help me. I am very happy with all the coins I have received.
It is like waiting for Christmas morning every time I get a package from you."
—A.B.,
St. Augustine, FL
1945 – 1954 Littleton Stamp Company New Beginnings
New beginnings in Littleton, New Hampshire
After receiving an honorable discharge in October 1945, Maynard returned home. Several weeks later the couple journeyed north from Bristol, CT, and in early December, that same year, Littleton Stamp Company opened. In the late 1940s and early 1950s, he decided to advertise in non-trade hobby publications – offering 10 free Hitler stamps from Bohemia-Moravia. These bold ad campaigns fueled an increase in business and growth.
1954 Littleton Stamp & Coin is Born
The coin and stamp hobbies were very popular in the '50s and '60s, so drawing inspiration from the Tatham Stamp Company, based in Springfield, MA, Maynard decided to send coins on approval through the mail. Littleton's mail-order business continued to grow, and by 1972, Maynard's eldest son David joined the company full time. A few years later, Littleton sent out its first direct mail piece.
1974 Mystic Stamp Company is Purchased
In 1974, Maynard decided to purchase Mystic Stamp Company and his youngest son, Don, agreed to oversee operations. By the end of the 1980s, Littleton moved its entire stamp inventory to Mystic. Now Littleton would focus on selling only coins, and when Maynard stepped aside, David became president.
Today under David's guidance and a talented management team, Littleton Coin is an American success story, serving collectors across the nation through the help of the U.S. Postal Service. Under his leadership, the company's product line continues to grow and expand. As one of the foremost providers of quality coins, bank notes and collector merchandise, the company continues to bring the excitement of collecting to a wide audience via the mail, making the coin hobby fun and easy.
Timeline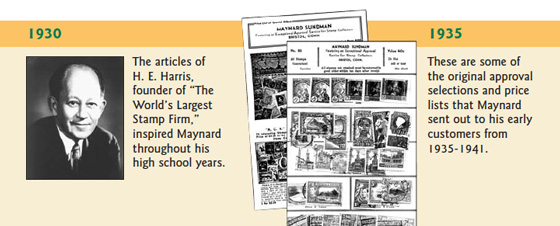 1930 and 1935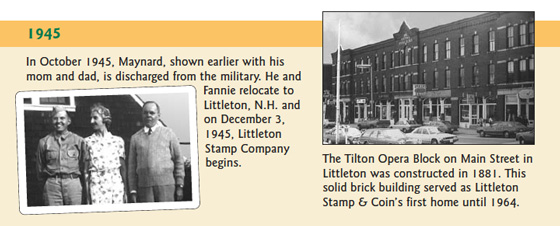 1945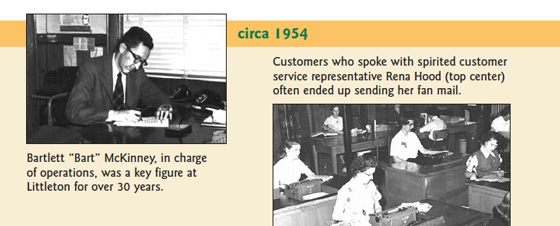 circa 1954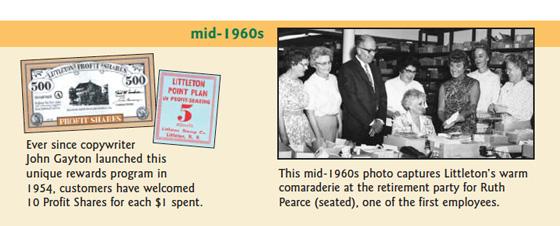 circa 1960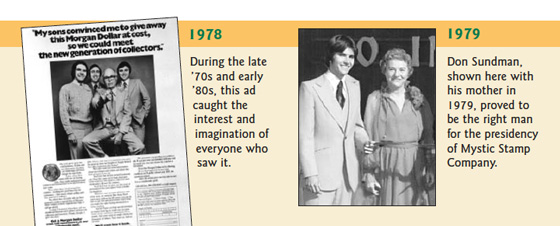 1978 and 1979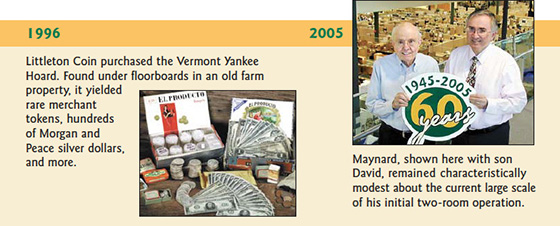 1996 and 2005

Littleton Coin Company employs over 320 at their New Hampshire headquarters.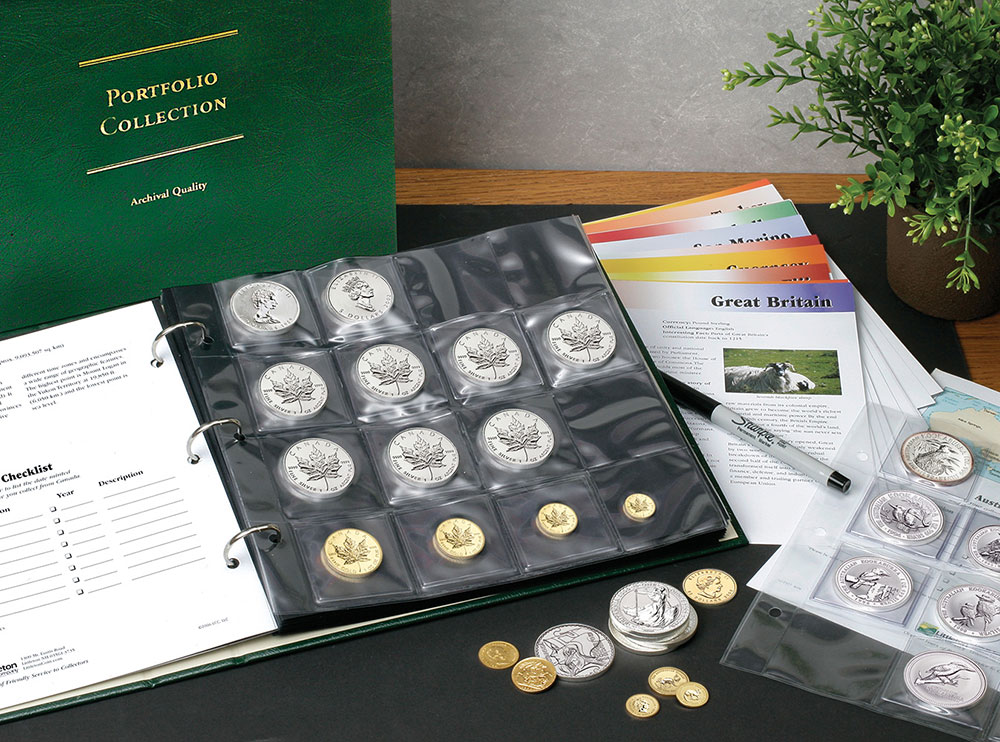 Littleton offers a wide variety of coin clubs to make collecting fun and easy.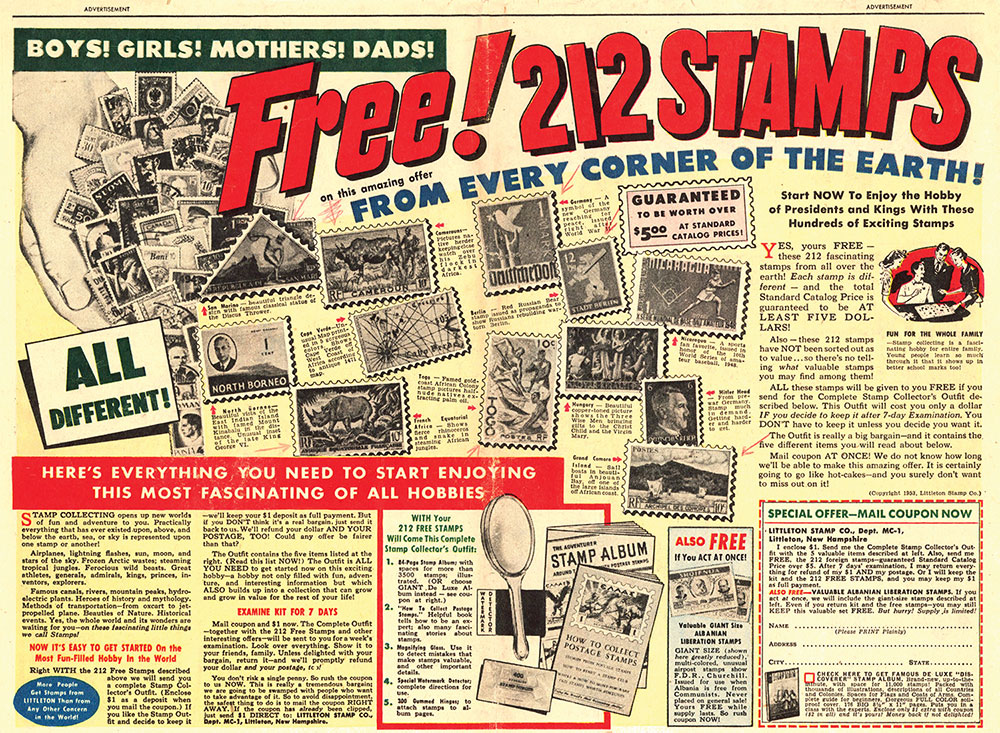 Ads, like these offered a way to get new customers to collect stamps through the mail.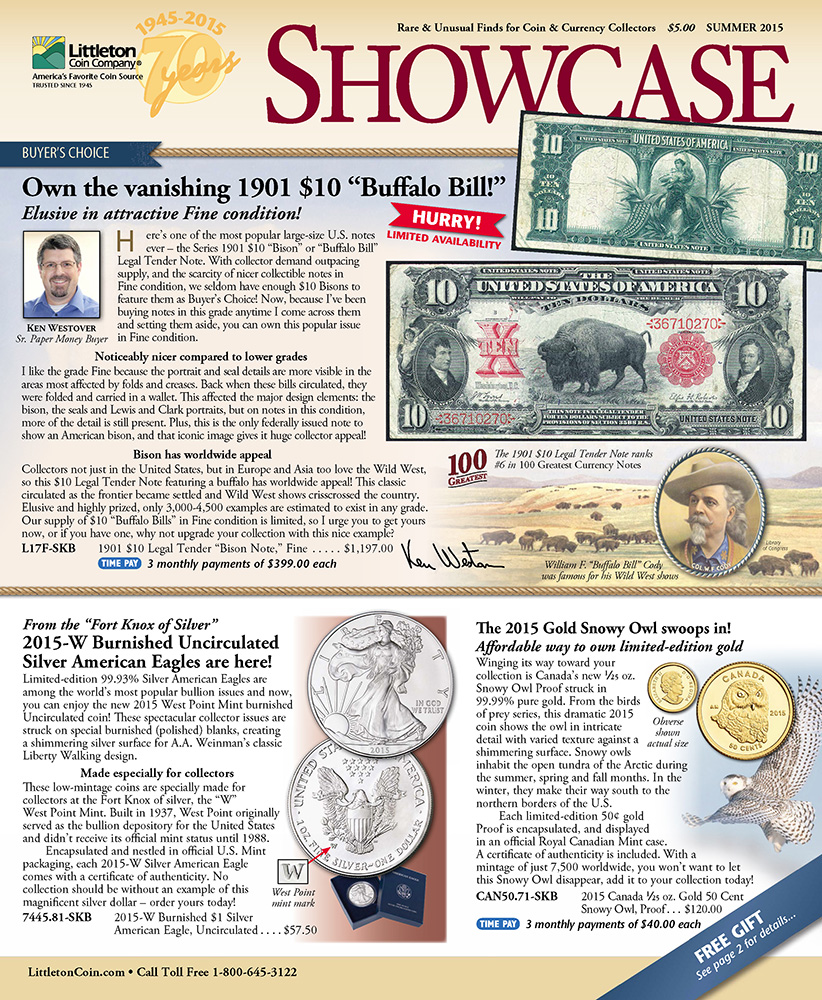 Littleton Coin Company offers rare and unusal finds for coin and currency collectors.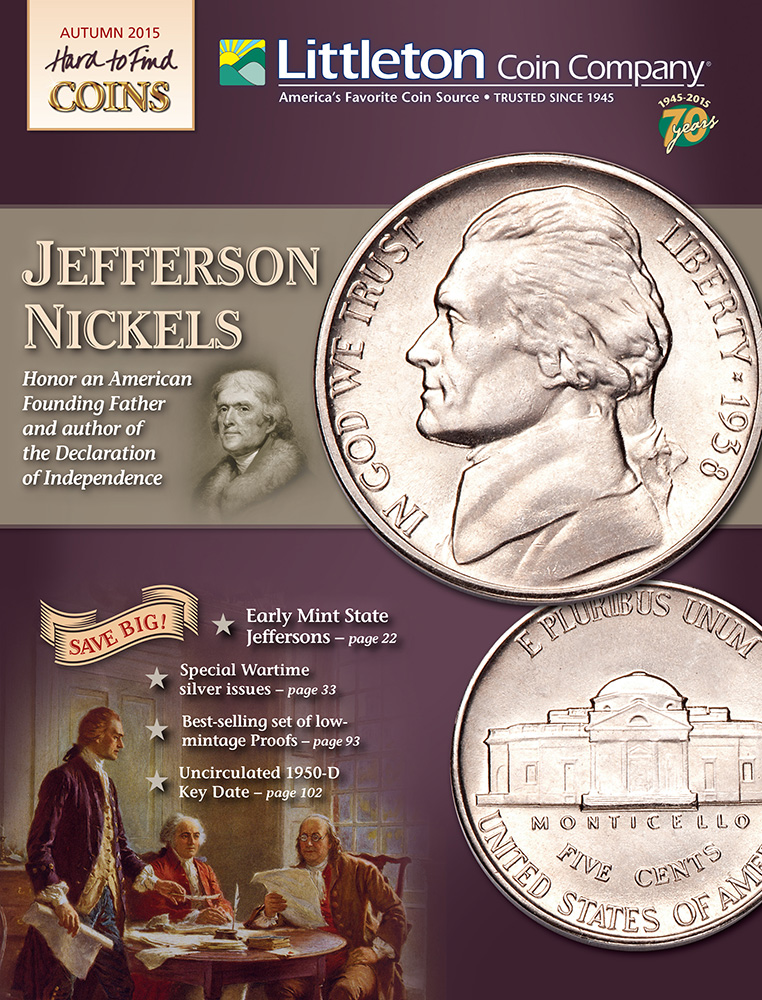 Littleton Coin is one of the nation's leading suppliers of coins, paper money and collecting supplies.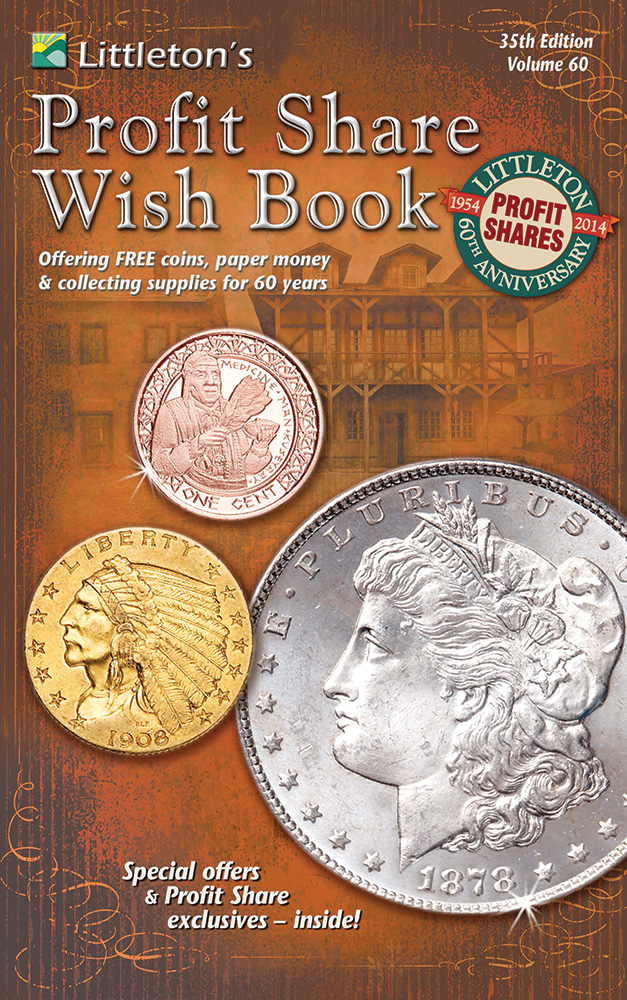 Today, Littleton sends catalogs nationwide.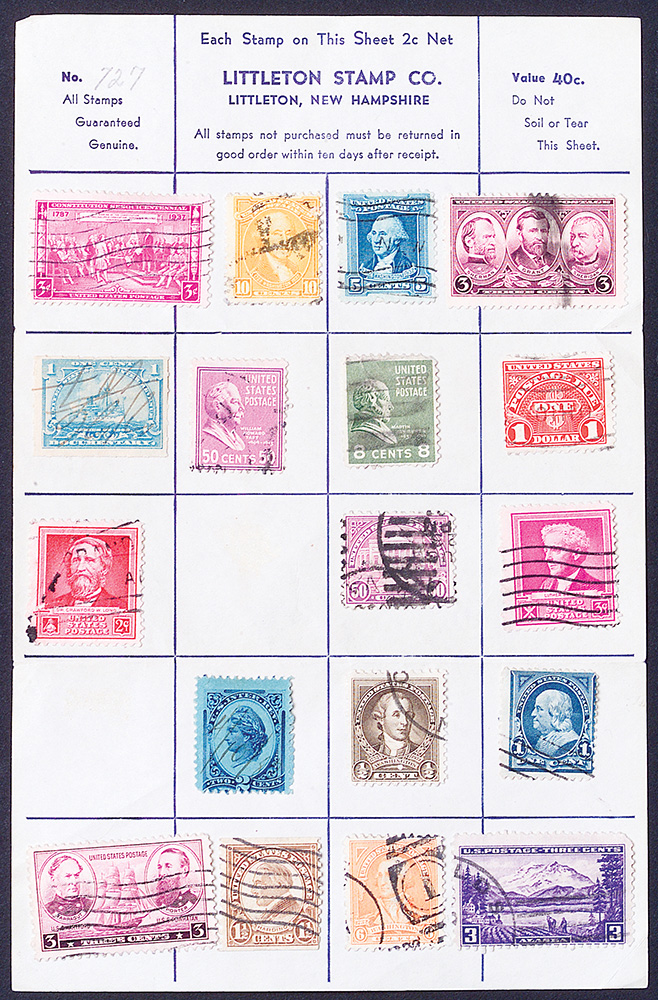 Stamps sheets like these circa 1945, were sent through the mail to customers "on approval".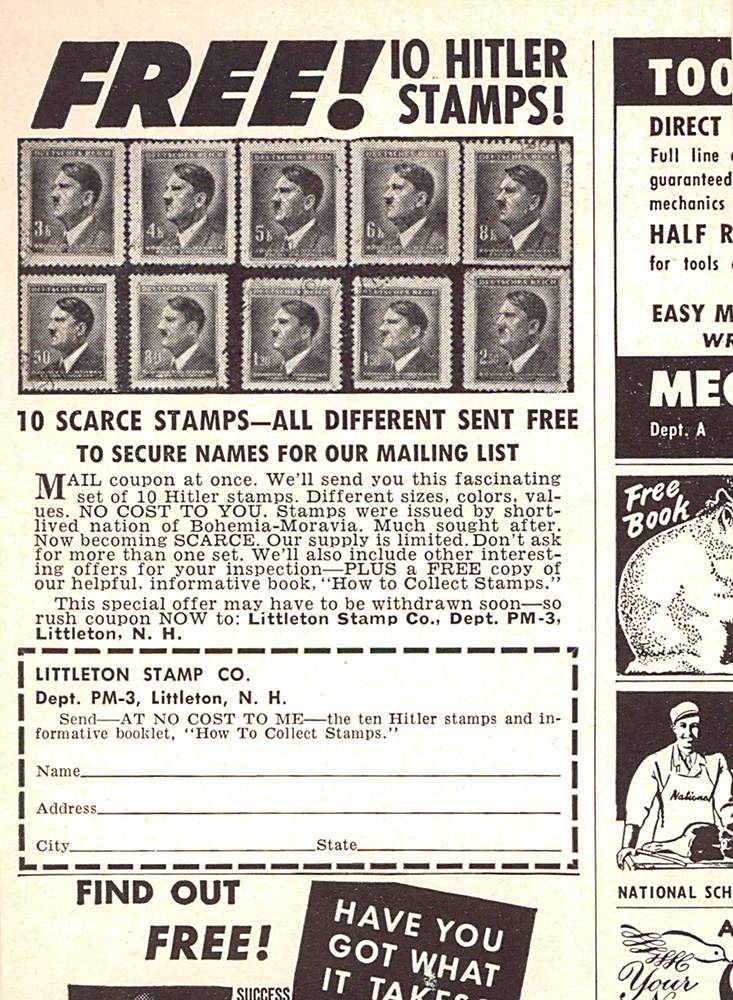 Littleton Stamp Company gained customers by placing ads in popular magazines.